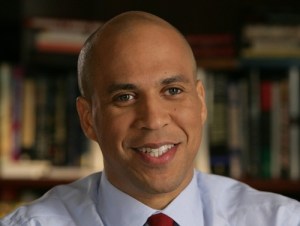 Newark Mayor Cory Booker is one of the most visible Democrats in New Jersey, but his old friend, Rabbi Shmuley Boteach, is running for Congress in the Garden State on a GOP ticket. Despite his relationship with the rabbi, Mr. Booker didn't sound likely to back his friend's congressional campaign when he spoke with Politickerthis afternoon.
"I'll tell you this, I'm a Democrat and, at this point, I have not made any decision, but I'd be hard pressed not to support," Mr. Booker momentarily stopped himself before continuing, "You know, this puts me in a very tough position, but the reality is, I think it's very important that we return a Democratic congressman from that district."
Mr. Booker first met Mr. Boteach when he was attending Oxford on a Rhodes scholarship. Mr. Boteach was sent to the prestigious, British university by Rebbe Menachem Mendel Schneerson, the now deceased leader of the Chabad Lubavitch movement. Though he's not Jewish, Mr. Booker served as one of the co-presidents of Mr. Boteach's campus Jewish organization, L'Chaim House.
"I was a 22-year-old young man. I was invited to dinner by a person who didn't even show up and really stumbled into what best could be described as a Chabad house," Mr. Booker said. "Shmuley and I, when we met and became friends, we agreed that we would exchange thoughts from our different faiths."
Mr. Booker said this exchange led to him "devouring" books on the Jewish religion.
"I found Jewish wisdom and ideals and great Jewish thinkers really very compelling to me."
In an interview with Politicker last week, Mr. Boteach described his friendship with Mr. Booker. He also said he wasn't going to ask his friend to refrain from making an endorsement in his race.
"I'm not asking him to stay out. Cory and I have talked a great deal about the race. I would never," Mr. Boteach said. "It's more than a friendship, he's like a brother to me. Ours is an intense, intimate, very unique friendship that has had so much history. I mean Cory, he and I have studied Judaism for thousands of hours together."
Mr. Booker and Mr. Boteach have remained close in the twenty years since they first met at Oxford. According to the website for Mr. Boteach's charity, This World: The Values Network, Mr. Booker is on the organizations board of governors. However Mr. Booker was surprised when we asked him about his support for Mr. Boteach's charitable work.
"I was on the board of governors of his charity?" Mr. Booker asked with a laugh. "Maybe I–I might have been for years, I didn't know I was still on."
When we informed Mr. Booker his participation was listed on the group's website, he said he'd have to look into the situation.
"I will have to check them on that," Mr. Booker said. "I de-boarded myself from most of my boards when I became mayor, so I didn't even realize that."
Though Mr. Booker doesn't want to be associated with the rabbi's charity and he seems unlikely to make an official endorsement, he had high praise for Mr. Boteach's "message."
"Shmuley is a guy that has a strong passion about Jewish values and Jewish ideals and in a way that makes them very universal ideals of justice, of fairness, of family," Mr. Booker said. "I've always sort of celebrated that aspect of Shmuley's message, which is that this world needs a renewal of values in a way that's not judgmental, dogmatic or condescending, but in a way that's uplifting, and inspiring and helps us all to rise to our higher angels. And, in that sense, I think I celebrate that aspect of his mission."
Though he appreciates Mr. Boteach's message, Mr. Booker said would prefer it if the rabbi kept out of the political sphere.
"I have vociferously worked to get him to stay out of politics. I have tried, argued, even threatened bodily harm to try to convince him not to get into the world of politics," Mr. Booker said. "I think it, in many ways, diminishes the universality of his message."