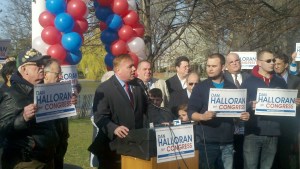 Councilman Eric Ulrich announced his campaign for the New York State Senate yesterday, a move that places the very  strongest Republican candidate possible in contention against incumbent State Senator Joe Addabbo, who resides in a swing district. Mr. Ulrich's campaign could also give an indirect boost to his colleague in the City Council, Dan Halloran, who will also be on the November ballot, but for an overlapping congressional district.
"We are happy Council Member Ulrich is running because he is a strong candidate who is well-known and well-liked in his district," Steven Stites, Mr. Halloran's spokesman, said when asked about the relationship between their campaigns. "Eric has already endorsed Dan, and his popularity will help Dan in the neighborhoods Eric represents on the Council."
(Mr. Stites also took a side jab at President Barack Obama by adding, "With Dan and Eric, folks in Queens can choose low taxes, responsible spending and pro-growth policies and say no to President Obama's failed policies.")
A noticeable portion of Mr. Addabbo's State Senate district is in New York's 6th Congressional District that Mr. Halloran is campaigning for. However, a significant portion of both his Council district and Mr. Addabbo's State Senate seat are outside of the congressional district, so the impact of Mr. Ulrich's campaign might not be that significant.
On the other hand, the 6th Congressional District is fairly Democratic and if Mr. Halloran is able to pull of the upset, every little boost is going to be important.
correction: The original post cited Ozone Park as in the 6th Congressional District, which is actually just outside of it.