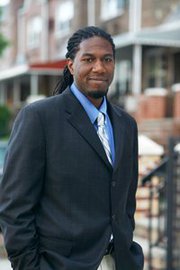 Council member Jumaane Williams is getting behind the push to have a ticker tape parade in New York for veterans of the wars in Iraq and Afghanistan. Mr. Williams introduced a resolution in support of a parade at the Council's Stated Meeting today.
"I am proud to author a bill that will hopefully push forward the 'welcome home' that our nation's veterans from the Iraq and Afghanistan wars so rightfully deserve," Mr. Williams said in a statement announcing the resolution. "While I am generally opposed to war, including these particular conflicts, I recognize that those who volunteer with the aspiration of doing good for their family and their country should be given the highest regard for their commitment and sacrifice."
Though there have been calls for a ticker tape parade honoring Iraq veterans in Manhattan, Mayor Bloomberg has said Pentagon officials don't want New York City to hold a parade now because they think it would be "premature while we still have so many troops in harm's way around the world."  Mr. Williams said he believes there should be a parade because New York has held parades for veterans of many other conflicts and other cities have already marked the Iraq and Afghanistan wars with parades.
"Just as veterans of World War I, World War II, the Korean War, the Vietnam War and the Gulf War have been recognized in the Canyon of Heroes, so too should we honor our most recent veterans the way that only New Yorkers can," Mr. Williams said. "Other major American cities, such as Saint Louis and Houston, have recognized the importance of holding a parade now and not allowing politics to complicate the process."