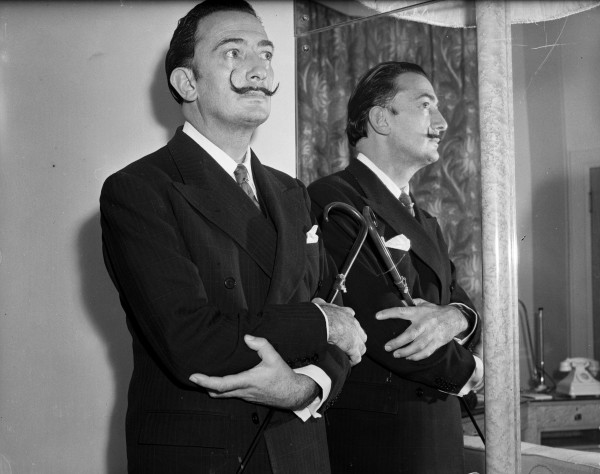 "If you're going to make a film in 3-D, Surrealism is what to make it about," filmmaker Philippe Mora told The Observer by phone. And so that is pretty much exactly what Mr. Mora is doing. He is working on a movie right now called The Surrealist, about painter Salvador Dalí and his tempestuous wife, Gala. Alan Cumming and Judy Davis are taking the lead roles.
"It's about an imaginary love affair that he had with the Mona Lisa," Mr. Mora explained. "Gala gets jealous, even though it's an imaginary lover. That's quite a woman to compete with!"
Mr. Mora said that some scholars now believe that the model for the Mona Lisa was a man, an assistant of Leonardo who donned lady's clothes for the iconic portrait, "so we're putting that element into the movie, which perfectly fit Dalí," he continued. "It was too good to be true. His private life is literally indescribable. You really couldn't classify him."
Dalí died in 1989, at the age of 84, so to help make sense of his private life, Mr. Mora has met with associates of the artist, like the late photographer Robert Whitaker and the former club kids Robert and Richard DuPont, who left Connecticut at 17, in the 1970s, to live and work in the city. They fell in with the crowd at Studio 54, including Andy Warhol, who brought them to one of Dalí's notoriously elaborate dinner parties—where artists and writers mingled with actors and transvestites—and they all hit it off.
A typical night with Dalí? One of those dinners at a now-lost legendary redoubt, like Trader Vic's or the Versailles Room at the St. Regis, then a trip to the short-lived Midtown transvestite bar G. G. Barnums. "There was a trapeze there and drag queens used to fly back and forth on the trapeze," Mr. DuPont recalled. One night, "Freddie"—that would be his then-lover, Queen singer Freddie Mercury—"went flying back and forth on the trapeze, it was fabulous.
"Afterward, Dalí wanted to go see a Disney movie, Fantasia, and it was playing around Times Square, and we went from drag queens and Freddie flying across to Fantasia. He good friends with Walt Disney." He added, "And then there was a Howard Johnson's on Broadway—I don't know if it's still there—where we would go for coconut ice cream with Gala. And then—wait until you hear what we did afterward!—there was a strip club right around the corner from Howard Johnson's called Gaiety, a gay, male burlesque house. You would have to walk up these flights of stairs and he wanted to go up to watch these men—these boys—strip in front of these old men."
Mr. DuPont recalls Dalí as "one of the most generous men." When he and his brother didn't pay the bill for the hotel where they were living for some time, the artist covered it and put them up at the luxe St. Regis. Another time, the day after Gala admired peonies at the New York Botanical Garden with Elizabeth Taylor, Dalí filled her room with the flowers.
How much of this makes it into the finished movie, which will begin shooting by the end of the year, remains to be seen, but the plan is to channel the master's vision. "It's really a fantasy about the film that Dalí would make about himself," Mr. Mora said.
editorial@observer.com