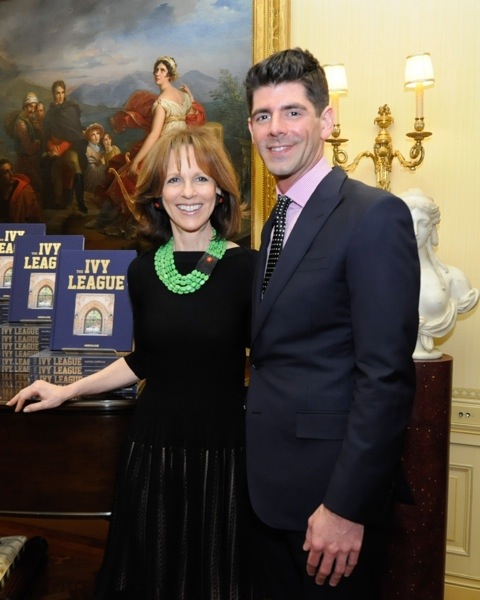 (Candace Beinecke and Daniel Cappello)
It's not every book party where you end up in a 5th Avenue estate, listening to a Columbia a capella group sing doo-wop classics.
But such a scene was fitting for Quest Magazine's Daniel Cappello, who was signing copies of his beautiful clothbound coffee table book, The Ivy League (Assouline), in the parlor of Candace and Rick Beinecke.
"They are old family friends of Daniel's," said Martine Assouline, co-founder of the luxury publishing house. Ms. Assouline was wearing her signature Balenciaga sunglasses indoors, which you are allowed to do apparently, as long as you don't bump into one of the century-old portraits in the foyer or make the faux-pas of trying to put your drink down on a table without a coaster.
Photographer and recent documentary subject Bill Cunningham mingled among the Upper East Side revelers which included Allison and Jay Aston, Charles Rockefeller, Punch Hutton and Chris Rovzar from Vanity Fair, Anne Vincent from Vogue, Robert Burke, Kelly Rutherford, and The New Yorker's Ben McGrath.
The younger men displayed a disproportionate amount of pink and/or ascots, the women wore cocktail dresses. We were sure that what most of the guests shared, besides good genes and old money, was a degree from one of the eight Ivies that Mr. Cappello lushly illustrates in his new book. (Mr. Cappello, a New Yorker alum himself, also graduated from the Ivy's Ivy: Harvard.)
We overheard Assouline's Cara Buscaglia and Mimi Crume Sterling proudly telling party-goers how the event basically threw itself.
"We barely had to do anything…Daniel had everything planned out, down to what glee group he wanted."
And Mr. Cappello did strike us as the type of man who never forgets a detail. When we mentioned that a Cornell alum friend had never heard of Dragon Day–which the book explained as a tradition involving a giant dragon created by architectural students– Mr. Cappello nodded.
"Right, well the dragon is only marched around part of campus as part of Architecture's traditional rivalry with the School of Engineering."
"Was your friend a law graduate student?" He asked.
We felt like we were talking to one of those TV psychics. How did he know?
"Law grad students live off-campus and are generally too busy to notice these types of things," Mr. Cappello smiled. Neat trick!
When we asked Ms. Assouline why she approached Quest's fashion director for a book about the top colleges in the country, she admitted that it was partly for personal reasons.
"We were trying to find the best university for our son in the states when we moved here," The Frenchwoman told us. "But there were so many schools to choose from! We wanted to see something you wouldn't get from the brochures…something more like stepping on to a campus."
Ironically Ms. Assouline's son ended up going up to college in Montreal, since his French was (at the time) better than his English.
Full of history and trivia about each of the top-tier schools, Mr. Cappello does spend extra attention extolling the virtues of his alma mater.
"Well, Harvard is a brand," Ms. Assouline smiled. "It's like Chanel."
(Photo via BFAnyc.com)