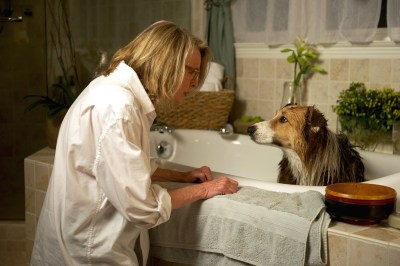 Failure is no disgrace at the movies. Rain falls so often in every first-rate director's life and career it becomes part of the territory, and comebacks are inevitable. But when a veteran cast of wasted champions goes down for the count before the director even yells, "Action!" disappointment doubles.
Nobody survives a train wreck like Lawrence Kasdan's Darling Companion without Band-Aids, but Diane Keaton, Kevin Kline, Dianne Wiest and Sam Shepard might need sutures. This lame and glaringly unfunny "comedy" really does them in—and the audience is collateral damage. The movie is not about anything much, but if you want basic anatomy, it centers on a woman who loves her dog more than she loves her husband, an orthopedic surgeon who has ignored his wife so long that his marriage has tanked and he hasn't even noticed it. When the distracted, self-involved Dr. Joseph Winter (Mr. Kline, reunited with Mr. Kasdan for the sixth time) loses the dog, everyone goes ballistic searching for the missing mutt and the movie sits up on its hind legs begging for a funnybone. Variety, the show business newspaper, is rarely witty itself, but I had to laugh when their critic panned Darling Companion, predicting, "It won't be long before this shaggy dog story turns up at the Netflix pound." I'd like to top that, but I know when I'm licked.
Beth (a valiant Ms. Keaton) plays a lonely housewife who takes a drive one day with her daughter Grace (Elisabeth Moss from Mad Men) and adopts a lost dog from the freeway traffic, names him Freeway, takes him to the vet for medical attention, then home (reluctantly) to her husband, Joseph, a rigid control freak with a full-frontal frown who would sooner welcome a root canal or a mortgage foreclosure than a rescue dog. Beth bonds with the dog, but Grace takes to the charming vet. One year later, she marries him, at the family's rustic Rocky Mountain vacation home in Telluride, Colo., played by Park City, Utah. (Mr. Kasdan is loyal to the film festival locations that have honored his films in the past.) History will not repeat itself here. The Big Chill and The Accidental Tourist were both superb ensemble pieces about people forced to consider their mortality and re-align their priorities after a twist of fate. The dull, talky people he unloads in Darling Companion to fill empty spaces are Beth's oversexed middle-aged sister Penny (Ms. Wiest) and her new boyfriend, Russell (Richard Jenkins), Penny's son Bryan (Mark Duplass), who thinks his mom's new squeeze and his possible future stepfather is a moron, Joseph's mother (the late, great Nan Martin), the local sheriff (Mr. Shepard), who is a bona fide hypochondriac with kidney stones, and a housekeeper-wedding planner-psychic with gypsy blood who sends everyone into the wilderness on a wild goose chase, searching for Freeway the dog, who runs away while Joseph turns away to talk on his cell phone. While they act silly, argue and say inane things, the screenplay, cowritten by Mr. Kasdan and his wife, Meg, can be described only as soft focus. There's no edge, just a series of asinine encounters while the city folks try to cope with wild mountain men, rattlesnakes, wild rams and each other.
I admire Mr. Kasdan for writing an alleged "comedy" about people who do not speak in cartoon bubbles, but this wooden movie drags so clumsily that it almost makes you miss the beauty of one-liners. What meager humor there is comes from the contrived antics of city people at odds with the great outdoors—a familiar Kasdan theme explored to better advantage in Grand Canyon. How much of the film you can bear depends on how much you like Diane Keaton and dogs. I'm passionate about both, but nothing that happens here is worth closer inspection. I managed a chuckle when she tries to set a dislocated shoulder on a mountain trail in the middle of a storm, Utah looks good in color, and the mutt is the most huggable actor on four legs since Uggie in The Artist. You're not supposed to ask why, if he's so smart, he can't find his way home on his own. He's a victim of the screenplay, too.
The movie is not about the dog. It's about the people who find love, settle their differences, and get their priorities straight while searching for him. Still, when all is said and done, the dog is the only thing you care about in Darling Companion.
rreed@observer.com
DARLING COMPANION
Running Time 102 minutes
Written by Lawrence Kasdan, Meg Kasdan
Directed by Lawrence Kasdan
Starring Diane Keaton, Kevin Kline and Dianne Wiest
2/4