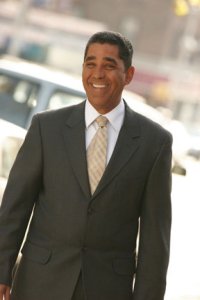 Former Governor David Paterson, who comes from the same Harlem political machine as Congressman Charlie Rangel, may think Mr. Rangel will fend off State Senator Adriano Espaillat's challenge this year, but he told The Politicker today that Mr. Espaillat will eventually make it to Washington D.C.
"Even with the huge population, we do not have a Dominican member of the House of Representatives, and one day I think Senator Espaillat will be that person," he said when asked about the campaign after his press conference on taxi payment accessibility. "In this particular race, we'll have to let the voters decide."
Mr. Paterson also lamented the redistricting process, which at one point was moving towards creating a Latino-majority Congressional District separate from Mr. Rangel's but ultimately just increased the Latino population of Mr. Rangel's district instead.
"I think that is very unfortunate, that that area that could accommodate a Hispanic Congressional District and an African-American Congressional District based on population alone, that those communities were thrown together," Mr. Paterson said. "Which could have caused strife but thankfully has not."
Also in contention for the race are a number of challengers, notably the former political director at the Democratic National Committee, Clyde Williams. Voters head to the polls June 26th.