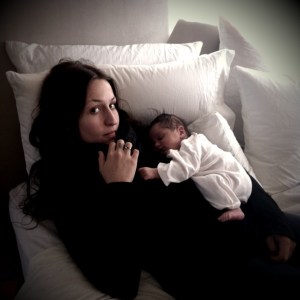 "You hear customers coming in all the time talking about Domino," Kristen Reifsteck was telling The Observer over the phone early one Tuesday morning. "They're mostly young, creative types, and they are obsessed."
Ms. Reifsteck works at the Williamsburg baby boutique, Caribou Baby.
"We have to keep the cards right at the register," agreed Caribou owner Adriane Stare. "Because so many people in Brooklyn are just really into the idea of having it be local. It's all done through word-of-mouth. And we recommend Domino to so many of the women who are thinking of getting one."
Ms. Reifsteck and Ms. Stare were talking about the new must-have for hipster mommies. No, Domino isn't the latest in American Apparel's maternity line. They were referring to Domino Kirke, a professional doula based out of Brooklyn.
Oh, but Ms. Kirke is so much more than a mere doula. In a profession that tends toward the low-key and crunchy, she has quickly become a brand name—more sought-after by Brooklyn moms than Van Leeuwen pickle-chip. The 29-year-old daughter of British drummer Simon Kirke (Bad Company and Free) and sister of Jemima Kirke (Lena Dunham's posh wing-woman in Girls), Ms. Kirke until recently enjoyed a moderate amount of success as the gorgeous vocalist in an indie band, Domino. In 2006, she was starring in anti-socialite Arden Wohl's super-hyped student film, Coven, alongside Columbia student Leelee Sobieski. She was hanging out with Mary-Kate and Ashley Olsen. She was on her way to becoming another New York art world dynasty superstar.
Instead, two years ago Ms. Kirke co-founded a Brooklyn birth collective, Carriage House Doulas, with Samantha Huggins. The group has now grown to include two birth doulas, three post partum doulas and one acupuncturist (who is also a birth doula).
"I've chosen to work in a field with a lot less ego attached to it," Ms. Kirke told us quietly in her lilting English accent. We were sitting in Modca, a Williamsburg cafe, and the gorgeous brunette was speaking softly so not as to wake up the 1 1/2 week-old soundly asleep in a sling across her breasts.
Ms. Kirke looks like a model and smiles like she knows the secrets of the universe (and would be thrilled to share them with you), so seeing her attached to the hottest accessory in Brooklyn that's not a fixed-gear bike wasn't totally unexpected.
The fact that the infant, Indigo, did not belong to Ms. Kirke was however, something of a surprise.
"I'm just helping out some friends," Ms. Kirke whispered (her own son, 3-year-old Cassius, was in school). It seemed only natural that these friends would trust Ms. Kirke with their tiny newborn: after all, she had been with the mother all during labor and delivery. She had coached the parents on every aspect of the birth, from what oil is best or a perineal massage to the glories of ice chips.
"I'm just a very maternal person by nature," Ms. Kirke continued. "I always loved babies. And this is just such generous, selfless work…you are just there to help facilitate the beginning of a new life."