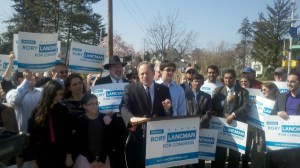 Former Mayor Ed Koch endorsed Assemblyman Rory Lancman for Congress today.
While normally endorsements from elected officials are overstated, Mr. Koch does have some reason to believe his endorsement won't be ignored in this race.
First, the district's demographics contain many older Jewish voters who may fondly remember his term in office. Second, Mr. Koch successfully shifted the narrative in now-Congressman Bob Turner's favor last year by crossing party lines and going to bat for the candidate. The Congressional District Mr. Lancman is seeking contains about 50% of territory formerly represented by Mr. Turner.
Like in his endorsement of Mr. Turner, Mr. Koch cited Israel as the determining factor, while still praising Mr. Lancman's Democratic opponents Assemblywoman Grace Meng and Councilwoman Liz Crowley.
"On the issue of supporting the state of Israel, while I am certain both Grace Meng and Elizabeth Crowley do support Israel, I have found Rory Lancman's knowledge and insights to be superior on what has to be done on the part of the United States to provide our ally Israel with security against its many enemies in the Mideast region and protect it from the existential nuclear threats of Iran," he wrote.
For her part, Ms. Meng had her own endorsements to announce today, including Council Members James Gennaro, Peter Vallone and James Vacca, as well as State Senator Tony Avella.