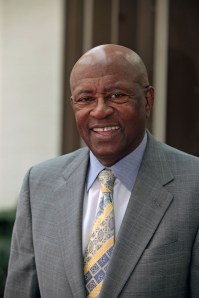 Retiring Congressman Ed Towns did not submit petitions to be on the ballot last night, closing the door on his ability to anoint an ally to run in his stead, according to one knowledgeable tipster. This sets up a direct head-to-head match between Assemblyman Hakeem Jeffries and Councilman Charles Barron in the June 26th Democratic primary.
The process of selecting of switching out one's ballot placement with a successor is an uncommon one, and typically is only done when the incumbent is unopposed, so it would have been surprising had Mr. Towns opted for this path.
On the other hand, his exit from politics has been anything but usual, and with both Mr. Jeffries and Mr. Barron criticizing his 30 year record, there was a small chance Mr. Towns would prefer someone else.
Nevertheless, Mr. Towns has closed the door on the possibility and establishment forces that supported him previously, like the Queens County Democratic Party, are already announcing their intentions of getting behind Mr. Jeffries, while Mr. Jeffries himself declared last night he would seek the endorsement from the outgoing incumbent.