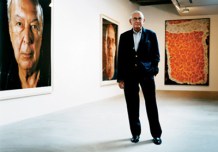 It is called The Art of Being Unreasonable. It has a foreword by Mayor Michael Bloomberg. The first sentence is "I am unreasonable." There Mr. Broad is on the cover, smiling awkwardly next to a Jeff Koons balloon sculpture. The good thing about being a billionaire with a book deal is that you can get some very fancy people to write blurbs for you.
President William Jefferson Clinton says "at a time when our country needs to focus on what works, Eli's book is a blueprint for effective public citizenship." Note how Bill subtly hints at his own latest book, Back to Work. (That's OK! We still love and miss you.)
Professional art hater Morley Safer says the book "will surely make you stop and think about the thousands of hours you waste stopping and thinking." Oh, Morley. What a loon!
You're probably wondering what Bill Gates has to say about his ol' pal, Mr. Broad. Well, here ya go: "It's…a book that powerfully makes the case that wealth finds its ultimate purpose in public service." (No comment.)
And what does Mr. Broad have to say for himself? Here he is on what he refers to as one of his "hobbies," art collecting with his wife Edye:
Collecting contemporary art takes a lot of homework because you have to judge the work of a living person. When we consider buying an artwork, we think about where an artist fits in among his or her contemporaries and how the work would integrate into our collections. Most of all, we think about the work itself–how significant is it and how evocative? All of this research has enriched my life immeasurably and required me to use a different set of skills and a different part of my brain than I did in business.
Eli Broad's brains!
Here's him on a studio visit:
Some years ago…I dropped by British artist Damien Hirst's studio only to be handed a protective astronaut-like suit so I could watch him lower a shark's carcass into a tank of toxic chemicals.
And here's what it's like to work for him: "I'm not effusive, even in moments of triumph, and I don't hand out compliments lightly." Fun!
The book is out in May from Wiley.