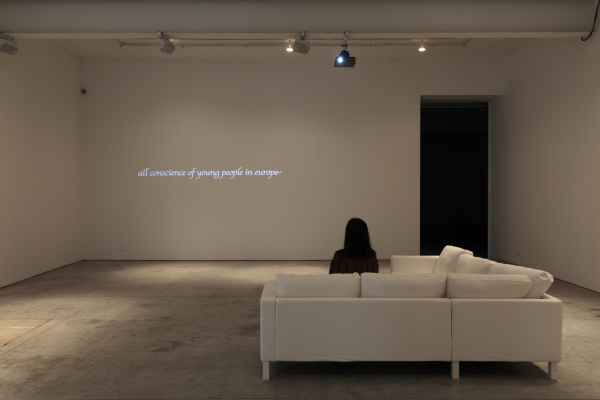 "Are we gonna go on video?" the artist Frances Stark asked us when we caught up with her on Skype a few weeks ago. She was back in Los Angeles—she teaches at the Roski School of Fine Arts at the University of Southern California there—after being in New York for the opening of "Osservate, leggete con me," her show at Gavin Brown's Enterprise in the West Village that runs through April 21.
"I didn't know if that was the plan," we typed back. "Your call!"
"Well let's start out this way…"
For a while, Ms. Stark, 45, was using that video feature to have sex with strangers—"camsex," it's called. She met these men on the website Chatroulette. One of her students introduced her to it. "We were in school and he said, oh but watch out there's a lot of dicks," she said.
There are a fair number of dicks! The site skews male and young. (Give it a try.) "I was so fascinated and wanted to just be a voyeur—not of the sex but of the random people in their banal rooms," she said.
Ms. Stark, in other words, did not set out to have camsex. But, she said, "at a certain point, I don't even remember the turning point oddly enough / but it just became like, huh, why not…" [A note on style here: since we talked via Skype, spellings have been preserved and separate messages have been noted with slashes.]
The texts from conversations with two of her online counterparts served as the script for My Best Thing (2011), an animated film that she made using free online software. Her character wears a leaf bikini; her lovers, a leaf or white underwear. A computer voice reads the dialogue, which includes talk of sex, but mostly art and politics and life. It appeared at the Venice Biennale and is now at MoMA PS1.
Ms. Stark's show at GBE, "Osservate, leggete con me," is comparatively understated: two video installations made of nothing but text from those conversations and some rudimentary furniture. The videos resemble cards from silent films or a Lawrence Weiner video that has become gloriously unhinged, infected somehow with Internet vernacular and a dash of obscenity or Owen Land. The main piece is broken into nine conversations with different partners. "i was encouraged/inspired to go for the repetition after I saw  kanye & jay-z on the watch the throne tour and they played, for an encore, N***s in Paris 9 times in a row!!!!!!" Ms. Stark said.
The seating for that video—a white L-shaped sofa—owes something to Kanye West as well. Ms. Stark sent over a digital file, we clicked it open and there appeared in front of us an image of Mr. West's pristine bedroom, all whites and light tans. Not an artwork in sight.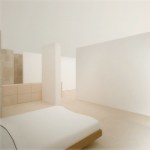 "HELLO????" she said. "does the man have an art consultant?" "Hahahahahahahaha," we cried, and she continued, "So this was clearly an inspiration. / actually i already knew i wanted it to be sparse."
But to the conversations! They are tiny short stories packaged into just a few lines, which flip by, one by one, on the gallery's walls. In one, Ms. Stark's online partner teaches her a bit of Italian: "sei una bella figa"—"you are a beautiful pussy." That sort of thing. The economic crisis comes up. "Yes heavy situation here / in all Europe / the people are tired from this policy / we don't have a future." Ms. Stark: "and its even worse for the Tunisians." The unnamed man agrees, and adds, "but maybe I'm annoying you / u want see my cock? / not very big / but very hard." End scene. On to the next conversation. ("The repetition thing…," she said. "i was very excited about that part of it because I was thinking about how it's 'always the same but always different' (what john peel said about The Fall)…") They are gripping, funny and very often moving—and they interconnect with the short video in the next room, Nothing is enough (2012), and My Best Thing. There are surprises we won't reveal here.
Many of the men are sweet, almost docile, at times. "It's a really nice portrayl of straight men," we offered. "yes I can make them sweet!" said Ms. Stark. She edits the conversations. It also probably helps that most of the chats take place "post-coital, so to speak."
"no honestly," she continued, "I don't think they act like this with everybody / it's because I'm especially patient and know something about anything they bring up / whereas some 20=-somthing hotty is probably not going to have much under her 'sleeve.'"
So, as she hinted, there is a manipulative element, a sinister streak at work, as there is in most good works of art. She is attentive to some one of her online paramours, showering them with compliments. With others she is colder. It's no mistake that the sumptuous "Catalogue Aria" from Mozart's Don Gionvanni loops during that video. (The work's title comes from the aria also: "Observe, read along with me.") In the song, the Don's book of lovers—640 in Italy, 231 in Germany, more than 1,000 in Spain, etc.—is revealed to one of the women he scorned. In contrast, Ms. Stark is, at least in part, turning herself in, putting herself on display. "which is of course not so nice for my bf," she typed. "that I'm flaunting my promiscuity…"
One loses a sense of time on Skype, and after an hour of typing away, we were in a daze, which became hazier as the conversation went on. It felt nice. "this is my preferred form of existence!" Ms. Stark declared.
"It's really pleasurable, typing away like this," we admitted.
"see! / it's even more pleasurable having orgasms in between." She added later, "to me this is a moer enhanced realm of the epistolary. …  I don't think I could've gotten this far with this whole thing if I didn't have physical confidence, if that makes sense. … / it's also addicting having guys say you look 15 years younger than you are, and honestly / whenever I tried to stop / for a few days / I'd feel like I was changing…like it was a real youth serum!!!!!"
However, with the work complete, she no longer participates in camsex. Her teaching schedule and various other projects are keeping her busy—she's at work now on a sound piece that will play in the BMWs that provide rides to VIPs at the Frieze New York art fair. And so she's on Skype less nowadays, though she keeps in contact with some of the men she met. "I'm having some serious withdrawl symptoms," she said.
One of the men she has kept in touch with provided a piano piece that accompanies Nothing is enough. "just the other day he asked me if we could do it!" she said. "hahahah I was shocked!
"oh wow," we typed.
"he's having withdrawal symptoms of some sort too. / i said, ok let's see in an hour or so" ("The hour was sort of get him to calm down," she explained.)
"hahaha"
"and I just didn't feel up for it / it's a lot of work!"