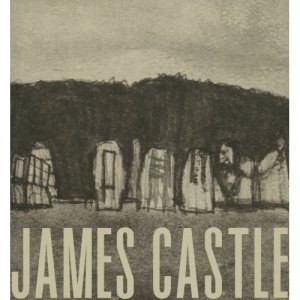 In 2010, some 150 pieces of art and three books by James Castle, the artist best known for his psychologically charged drawings in soot and saliva, were found in the ceiling of a home in which he had once lived, in Boise, Idaho, by its current resident, Jeannie Schmidt, who claims she is the rightful owner of the work. Members of the extended family of Mr. Castle, who died in 1977, argue that they rightfully own the works, which could be worth tens of thousands of dollars. Now the two sides are battling it out in court, the Associated Press reports.
Here's the AP:
"Schmidt [who bought the home in 1996] said the trove belongs to her now, and that Castle's niece, who died in 2007, had told her as much when she bought the home. The only true owner was Castle or possibly his sister, Schmidt argued, and both are dead.

But Castle's family, who created a partnership in 1996 to manage and sell his artwork, argue they are the rightful owners through 'gift, inheritance and conveyance.'
Ms. Schmidt's lawyer says that Castle's family "never claimed ownership to other items she found," and that they "threw a party with pizza and beer just before the 'rotten old house' sold because they were happy to have it off their hands, giving away pieces of Castle's art to guests."
At issue is who the "true owner" of the work is under Idaho law. Which is no easy task. The whole story is pretty sad and messy. The court case is expected to last three days.
Mr. Castle, who was born deaf and mute, lived in Boise, Idaho, his entire life, from 1899 to 1977. Interest in his work has increased dramatically in recent years, helped along by a major retrospective that opened at the Philadelphia Museum of Art in 2008 and traveled to the Art Institute of Chicago and the Berkeley Art Museum.
Reviewing a Castle show at Knoedler & Company in 2009, Times critic Roberta Smith wrote:
James Castle was the artist of silence, grayness and folded cardboard. Silence because he was born deaf and refused to read, write, speak, sign or finger spell. Grayness because of the velvety, overcast drawings he made all his life: extravagantly tonal images of landscapes, farmyards and interiors rendered in a mixture of soot and spit applied to found paper with sticks and rags. Their muted yet solid forms in some way embodied both Castle's silent world and his loyalty to it.