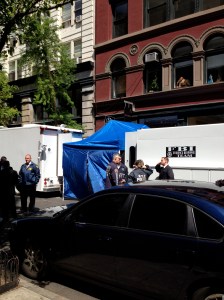 FBI and NYPD investigators shut a two-block stretch of Prince Street in SoHo today to dig for remains in the case of a young boy who went missing nearly 33 years ago. Etan Patz, 6, disappeared on May 25, 1979 after leaving his home for a two-block walk to his school bus stop. Despite worldwide attention, the case has never been solved. NYPD Deputy Commissioner for Public Information Paul Browne told The Observer that police and FBI investigators are "executing a search warrant this morning for human remains, clothing or other personal effects that may help us lead to the location of Etan Patz" in the basement of 127B Prince Street. Etan went missing about a half block away from the basement.
"It's about a 15-by-30 basement space," Mr. Browne said. "It's currently unoccupied, we'll be taking down the drywall and excavating the basement."
Mr. Browne said the investigation, which potentially involves a kidnapping case, is a joint operation between the FBI and NYPD. He said the investigation stemmed from a request by District Attorney Cy Vance Jr., who reopened the case in 2010.
"It was not a tip, it was a re-examination of the existing evidence," Mr. Browne said. "I think there was some interest expressed by the District Attorney."
Mr. Browne would not say whether or not there is a suspect in the disappearance. FBI spokesperson Tim Flannelly was similarly tight-lipped.
"I'm not going to comment, it's an ongoing investigation," Mr. Flannelly said when asked if there are other aspects to the investigation apart from the Prince Street dig. "We're here executing a search warrant."
As of this writing, the Patz family could not be reached for comment, but Mr. Flannelly said he believed they were aware of the dig.
Thanks to the efforts of neighbors who plastered Manhattan with posters and pestered the media, Etan's case earned worldwide attention in the weeks following his disappearance. He was among the first missing children to have his photo placed on milk cartons.
Sean Sweeney, director of the SoHo Alliance, lives around the corner from the site of the dig and has been in the neighborhood since 1976. He said the basement was empty today, and was at the time of Etan's disappearance.
"Where they're looking now was a basement, an abandoned basement," Mr. Sweeney said gesturing toward the high-end boutiques that now line the block. "A lot of these stores, believe it or not, were empty. You couldn't rent them, and so, I'm sure there was nothing in the basement at the time.
"So, it would make sense that someone would grab a kid who was walking one-and-a-half blocks from here down to West Broadway just like, 'come here for a second' and just grab him, take him down there," he said.