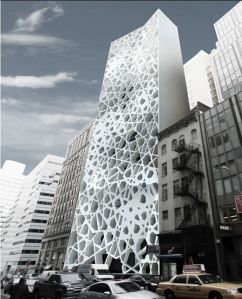 If you thought the Ground Zero "mosque" struggle ended when the courts struck down a lawsuit against the cultural center last July, you are a little off. A notice of appeal was later filed, but that was finally withdrawn last Friday, according to The Real Deal.
Timothy Brown, a retired New York City firefighter, initially filed the suit back in October 2010 to the New York State Supreme Court. The suit challenged the recent Landmarks Preservation Commissions denial to grant the 150-year old factory landmark status. If the building was marked as a landmark, then it would make it harder, but not impossible, for the site to be redeveloped.
But even with the court shooting it down, and then the later withdrawal of his appeal, Mr. Brown still views it as a victory.
"Basically, we achieved our primary objective, which was to raise public awareness of the issue," Brett Josphe, one of Brown's attorneys, told The Real Deal. "My client felt he had achieved his goal and it was time to move on. As a Sept. 11 survivor, who lost more than 100 friends [that day,] it was absolutely a victory."
Mr. Josphe further noted that a factor in dropping the appeal was that Soho Properties, the developers behind the mosque, "lacks the necessary funds, approximately $17 million, to build the Islamic community center at the site."
Though that isn't the end of the property. As of last summer, Sharif El-Gamal, Park51's developer, might have a five-story trick up his sleeve (with yoga).
mewing@observer.com