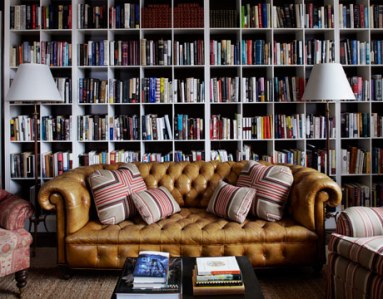 Some developers wanted to turn precious New York libraries into condominiums, but now some are making sure that their condominiums have libraries within the building. Maybe it makes sense. In a slump of apartment sales, it might just be easier to panel a lower-level studio apartment with fine oak wood, buy out a row at the Strand, and add another bullet point to the amenities list!
The library has become a popular "low-cost frill" that's sweeping across apartment buildings in New York, The Times notes.
"[The library] may be a marker of luxury. It's like having that fourth kid," Roy Kim, senior vice president of design Extell, the company behind the massive One57 project, told The Times—we imagine with a straight face, hard as that is to believe.
Though, like some fourth children, the libraries have blossomed into beautiful rooms. Developers usually seed the collection which, in turn, spurs neighborly generosity and library growth. It only took a few coffee table books on design to garner similar additions from personal collections in its rooftop library.
At 1 Rector Park, the residences are not large, and that its library–named Bar and Books–"can be a retreat while the housekeeper is vacuuming, or to get away from the nanny and children," according to James Lansil, senior managing director at Corcoran Sunshine.
Is the retreat the books or the bar?
mewing@observer.com