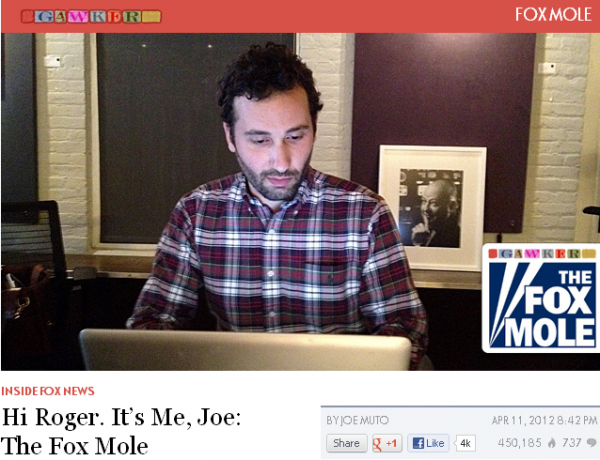 Just a few days after Gawker introduced their recent and short-lived foray into corporate espionage-cum-pranksterism in the form of The FOX (FOXA) News Mole, one Joe Muto found himself on CNN, speaking with Howard Kurtz on Reliable Sources about the week he'd just had. In that interview, he explained that he was "completely blackballed within the cable news industry after working at FOX News," which is to say nothing of how his job prospects might be now ("it's pretty safe to say my career in cable news is over"). Is it, though?
The paradox the Fox Mole presents is simple: News organizations rely on sources for news stories, but are often taken aback when they, themselves, are news stories. Sources have any number of motivations and incentives to betray the trust of a secret and talk: They could have something to gain from the secret being out there. They could, in their minds, be partaking in an altruistic act for the public good. Or they might just be petty and annoyed. Whatever the case, the news-gathering industry has relied on people telling reporters things they're not always supposed to since the Fourth Estate was established.
Which is why as any media reporter can tell you, it's always interesting to watch the way media companies react when they are the ones subject to leaks. Some are empathetic; others, who would argue that reporting organizations are subject to a higher need for confidentiality than those they report on, become Wrath-Of-God furious. Which, it could also be argued, is rife with laughable naivety, double-standards, and blatant hypocrisy.
We were curious, both about the legitimacy of the motives Muto claimed and about his prospects in media after Life As A Mole:
1. Was Joe Muto truly "completely blackballed within the cable news industry after working at FOX News," as he claimed he was?
2. Assuming he met all qualifications as a hiring prospect, given his now well-documented past, would people working in media hire the Fox Mole?
3. Muto joked that the only place he might be able to get a job now was CurrentTV. Could he?
Network executives at CNN and MSNBC were adamant that both networks had hired and currently employed workers who had once worked at Fox News (naturally, none of them wanted to be quoted or named for this particular story). As for the top brass at these networks:
Ken Jautz (Executive Vice-President, CNN):
"Going to pass on this," through a network spokesperson.
Phil Griffin (President, MSNBC):
"Going to pass," via a network spokesperson.
David Bohrman (President, Current TV):
[Didn't return a request for an interview, after speaking with Mr. Bohrman and a Current TV communications exec.]
We polled some editors to see, given that they work in the news business, what kind of trust they would instill in someone who had publicly gone through the episode Joe Muto just did:
Kerry Lauerman (Editor-in-Chief, Salon):
"I'd need to know more. I certainly wouldn't disqualify him for working at Fox News. And I wouldn't disqualify him for being a mole, if he could convince me it was an act of moral righteousness. But it does bother me that he lied to Fox honchos after they confronted him. Journalists who are comfortable liars should make everyone supremely uncomfortable."
Ben Smith (Editor-in-Chief, buzzfeed (BZFD)):
"I'd be very leery of hiring someone who had been a disloyal an employee, an obvious contradiction because of course I've long relied on leaks from people acting against their bosses' interests."
Elizabeth Spiers (Editor-in-Chief, The New York Observer):
"I think the whole thing's more of a management lesson: Don't do anything you'd be embarrassed to have leaked by a mole. And assume all internal communications might as well be prefaced with FOR PUBLICATION."
The Fox Mole has not posted since April 12th, the same day Jeff Bercovici at Forbes reported that Joe Muto made $5,000 off of his grand exit from the network and Gawker posted the legal threat Fox sent them. The stunt has earned Gawker over 1.8M pageviews.
That doesn't count the recent Gawker post bylined not by Muto, but staff writer John Cook: a small cache of Roger Ailes' internal network missives sent "to staffers at The O'Reilly Factor in 2008 and 2010," which were "recently obtained" by the site.
fkamer@observer.com | @weareyourfek