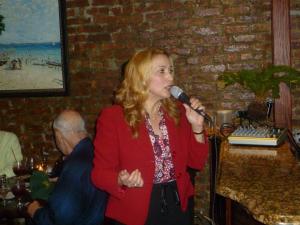 Gabriela Rosa, a senior policy advisor and special assistant to Assemblyman Herman "Denny" Farrell, is preparing to announce an attempt to join her current boss in the State Assembly. According to El Diario's Roberto Perez, Ms. Rosa will announce her intention to run for the Assembly seat in Upper Manhattan's 72nd District at a press conference on thursday. Ms. Rosa has also created a Facebook page for her campaign.
"Join me in this exciting journey to bring true change to Washington Heights, Inwood, and Marble Hill. I am a member of this district and I know the problems we face because I live them," Ms. Rosa wrote on Facebook.
Assemblyman Guillermo Linares, who currently represents the district, has said he's "seriously considering" moving on to run for the State Senate seat currently held by Adriano Espaillat, who's running for Congress. Mr. Espaillat initially said he would start a congressional campaign only if a predominantly Latino district rather than challenging longtime incumbent Charlie Rangel. At that time, Mr. Linares expressed his support for Mr. Espaillat. The redistricting process didn't carve out a Latino district in Upper Manhattan and Mr. Espaillat still decided to run against Mr. Rangel, but Mr. Linares seems to be waffling on his support. Earlier this month, Mr. Linares stood by Mr. Rangel's side as he held his first press conference after a long, health-related absence.
It remains to be seen whether Mr. Linares will remain neutral in the congressional or whether he's merely holding back his official endorsement to gain leverage from the candidates. According to Mr. Perez, the Espaillat campaign feels "betrayed by Linares" and is "plotting ways to get revenge" if Mr. Linares doesn't support Mr. Espaillat's congressional bid including "running candidates against Linares and his allies." Mr. Perez said local district leader Manny De Los Santos "is also exploring running" for the State Assembly seat. Both Ms. Rosa and Mr. De Los Santos are longtime supporters of Mr. Espaillat.