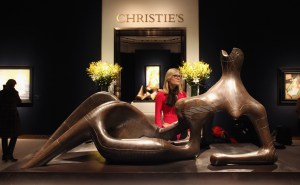 Gagosian gallery is planning a major exhibition of the sculptor Henry Moore that will open at its Britannia Street gallery in late May. The show will feature some of the artist's large-scale sculptures, many shown indoors for the first time.
We first heard of the exhibit from Artlyst which described a few of the key pieces for the show:
In Two Piece Reclining Figure No. 2 (1960) the rough texture of the patinated dark surface infuses the large corpus with a certain brutalism, the stunted head and blocky limbs akin to arched geological formations, weathered from time immemorial. Reclining Figure: Hand (1979) is immediately identifiable as a human form despite its modulated stylization; the softly rounded, cloud-like body attests to Moore's more exploratory impulses when compared to Large Four Piece Reclining Figure (1972-1973) and Reclining Connected Forms (1969), where he alludes to body parts using the vocabulary of mechanical components.Large Two Forms (1966) and Large Spindle Piece (1974) evidence an interest in both natural and man-made objects.
Last month, Moore scored a new artist record with his Reclining Figure: Festival (1951) selling for $30 million at Christie's in London. That piece beat Moore's second-highest price significantly, that one selling for $8 million in 2008, according to Artnet.
The Gagosian show runs from May 31 to August 18.