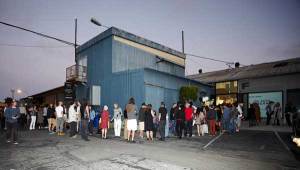 The Exposition Light Rail, which connects downtown Los Angeles to Santa Monica, is expanding and opening up a new stop at the Bergamot Station Arts Center. Many of the 35 galleries that are housed in the complex are worried.
According to The Art Newspaper:
The plan has been met either with cautious optimism or outright opposition from gallery owners, who have taken part in seven community meetings over the past year. "This plan is only a suggestion. We have no idea what we're going to be getting," says Carol Kleinman, the co-owner of TAG Gallery, who worries that galleries will be replaced by higher-paying commercial tenants.
The new stop is expected to bring in 3,500 commuters every day. There has been no formal notice of when construction will begin, but in a statement sent to The Art Newspaper, a spokesperson for the Exposition Light Rail said "all tenants should be able to function normally without any direct impact from construction."