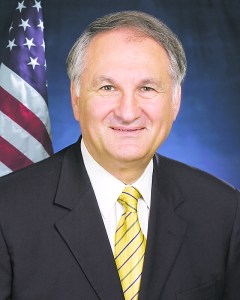 In honor of Tax Day tomorrow, Republican Senate candidate George Maragos sent out a lengthy press release accusing New York's current senator, Democrat Kirsten Gillibrand, and President Barack Obama of trying "to deflect public attention from their failed economic policies by cultivating a climate of class warfare among economic, ethnic, and gender groups." Mr. Maragos specifically criticized the "Buffet Rule." Presumably, Mr. Maragos was actually referring to the "Buffett Rule," the plan to ensure higher tax rates on people making over $1 million proposed by billionaire investor Warren Buffett, rather than a proposed regulation on buffet-style dining.
Mr. Maragos cited the recent scandals involving the Secret Service's trip to Colombia and the General Services Administration's Las Vegas conference as "symptoms of gross waste and mismanagement pervasive in the Obama Administration" that Ms. Gillibrand and the president are attempting to cover for by calling for higher taxes on the wealthy.
"Gillibrand and Obama must be held accountable for their failed stewardship of the economy–destroying American jobs, increasing the national debt, and pushing food and gas prices ever higher," Mr. Maragos said. "Adding insult to injury, they both constantly fight to raise taxes on the American people in order to continue their wasteful spending and hide their mismanagement."
Mr. Maragos, who is comptroller of Nassau County said the "Buffet Rule" is one example of Ms. Gillibrand and President Obama's tax coverup.
"The 'Buffet Rule' is not a serious attempt at tax reform but a stunt to perpetuate class warfare," Mr. Maragos said. "There is no meaningful economic benefit to this rule. The rule is projected to raise less than $5 billion in revenue annually and would not put a dent in the nearly $1.3 trillion budget deficit."
The Senate is set to hold a procedural vote on the "Buffett Rule" this week. President Obama has given the bill strong support. We're not sure what's the current status of the "Buffet Rule."