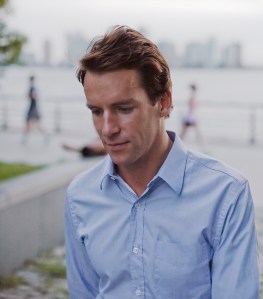 In 2005, Bill Clegg, the handsome, gay cofounder of a thriving Manhattan literary agency, went on a two-month crack spree that destroyed his life. He was 33. It was, as he put it in his first memoir, 2010's Portrait of an Addict as a Young Man, his "Jesus year." That book is a stylish record of his swan dive to rock bottom. It's very readable, in the sense that you'd have to be a Martian to find it boring. It's short, there's lots of sex, and whenever a worried friend pops up or remorse sets in there's always a "thick cloud of crack smoke" to put things in perspective. Mr. Clegg spends much of the book half-naked in hotel rooms, getting high and drinking vodka with "my towel cinched low on my hips." Usually he has a "partner in crime," and when he doesn't he turns to porn. Crack makes him paranoid: he sees DEA agents everywhere, hears footsteps, infers conspiracies. He believes the cabdrivers of Manhattan are malevolently leagued against him. "Lose nothing or lose everything," he thinks, but ultimately he just loses a lot. As well as $40,000 in savings, he loses his friends, his clients, his business, his reputation, his libido, his boyfriend and 40 pounds. The debauchery is punctuated by bathetic episodes in which he tries to get new holes pierced in his belt; his pants don't fit him anymore.
Near the end, Mr. Clegg smokes $2,000 worth of crack in a room at the SoHo Grand, downs a bottle of sleeping pills and nearly dies. "What now?" he thinks, bankrupt in his hospital bed, so of course it's off to rehab. A few months later, he returns to the city: "Gradually, mornings become merely mornings, not panic-stricken hours managing the consequences of not coming home before daybreak." There are signs, though, that he may have more writing in him. Vignettes from a troubled past interweave the narrative of his binge. There is an atmosphere of things not dealt with, of stewing neuroses. "I am not in a hurry to leave this process of letting go of the many secrets that I had spent a lifetime squirreling away," he thinks at the tail end of one futile trip to detox. Still, when Mr. Clegg, now sober, unexpectedly gets offered another job in publishing, the book more or less wraps on the spot. Things have cooled down, and the vein of good copy has dried up.
The new book, Ninety Days: A Memoir of Recovery (Little, Brown and Company, 208 pages, $24.99), fills out a story that was telescoped into a few paragraphs in the old book: it is about Mr. Clegg's return to New York. The process by which the panic-stricken dawns became mere mornings, it turns out, was prolonged. He kept smoking crack, and the good copy kept coming. The title refers to "a milestone that many fellowships and organizations dealing with alcohol and substance abuse use to mark a strong foothold in sobriety." Pursuit of this foothold structures the memoir, as it structured the period of Mr. Clegg's life it covers, and there is many a slip and stubbed toe. He gets within "spitting distance of ninety days," and then he relapses. He goes a few weeks; and then he relapses again. "Enough is enough," says his mother, and he agrees—but soon enough he's "on autopilot," which in Cleggian means having a crack-stoked foursome in Soho. He's up, he's down, he's up, and he's down. "Why do I always want to die?" he wonders "impatiently."
In the last chapter of the book, which was completed last year, Mr. Clegg admits that he relapsed again recently, after five and a half years of spotless sobriety. "For me, there are no finish lines," he writes. "No recovered, just recovering." Then he describes the apotheosis of admitting this in a "meeting." This completes a shift of emphasis that the whole book works to enact. For it is the meetings of addicts, not the "terrible but hilarious stories" of their addiction, that he commemorates in Ninety Days.
Post-rehab, Mr. Clegg was jobless, aimless and nearly penniless, "a Dickensian speck in a city that no longer [had] use for me." His social life was moribund, he was "qualified to do absolutely nothing," and he didn't have an apartment: he slept on a futon in the West Village studio of an understandably wary former friend. All Mr. Clegg had to fill his days were the meetings of "a fellowship" for addicts. The fellowship was suggested by his sponsor, Jack—a jukebox of the platitudes of recovery: "[Jack] metabolizes what I imagine are insurmountable obstacles into simple phrases like One day at a time and Take it easy, which I find at once baffling, patronizing, and comforting." Mr. Clegg goes to a lot of meetings, and by the end of the book he is "cling[ing] to" these phrases he used to "cringe at." More than the saga of his recovery, Ninety Days is the story of his embrace of the methodology of recovery: its mores, credos, precepts. In the final pages of Portrait, he had noted a stirring of his feelings toward "something less self-concerned." He has delivered on this stirring by writing a memoir that is an ode to a community. It is "the flip side" of his crack paranoia. He does not "count days" alone.
Thus we meet Annie, an actress who went on a bender and totaled her career, and Polly, a cokehead who lives with her twin, Heather (another cokehead). Polly and Mr. Clegg attend meetings together and walk dogs in Union Square Park. They are bantering competitors in the race to 90 days. He relapses, and she scolds him. She relapses, and he scolds her. They are "fluent in the language of falling apart"; Polly jocosely calls him "Crackhead." We also meet Asa, a heroin addict and urban planner. With his "halo" of "preposterous" red hair, the serendipitous Asa is always around the corner and primed to intervene when Mr. Clegg starts in on a "death dance." Somewhat less serendipitously, Asa falls in love with him. "Let's face it," Mr. Clegg tells him. "I'm hardly a catch."
Recovery, for Mr. Clegg, is an even mix of bonhomie and boredom. "I wonder what I'll do all day, how I'll fill up the hours, where I'll go," he thinks. Besides going to meetings, he works out, eats granola and looks forward to afternoons of Oprah with "the fizzy energy of watching the Academy Awards." Mostly, though, he sits around waiting for the old urges and the crises they entrain—or for addict friends to call him up and yak about their urges. He is good at evoking the persistence of addiction—the "sudden craving, the world narrowing to one desire." He isn't as good as Burroughs or Exley or Jim Carroll (or, more recently, Edward St. Aubyn), but he is good enough for the tale of his rehabilitation to give you an unseemly nostalgia for the tale of his dissolution. Sometimes the burdens of dramatizing his rise from the abyss send his style into free fall: "I can make it, I think desperately, meaning both the meeting and in general."