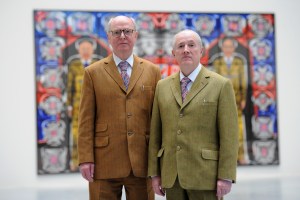 In this week's Observer, I wrote about the artist duo Gilbert and George, whose new show "The London Pictures" opens at Lehmann Maupin and Sonnabend tomorrow.
If you're a fan of the artists, you'll want to stop by Lehmann Maupin Chelsea this Saturday, where Gilbert and George will be signing catalogues and the first hundred visitors will receive free copies.
The catalogue is excellent, especially if you're desirous of that certain nausea brought on by unhealthy doses of tawdry headlines. And, as my story may indicate, it's always a pleasure to see these two in action.