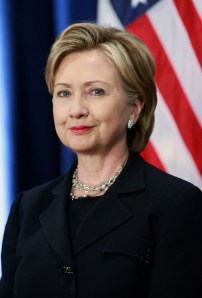 Senator Kirsten Gillibrand went on Inside City Hall last night to address a range of issues, including her support for a hypothetical second presidential bid by Secretary of State Hillary Clinton. Needless to say, she excitingly extolled the possibility.
"I just have such great respect and affection for Hillary Clinton, she's been a personal mentor to me and she is one of the people who really inspired me to get involved in politics," she said, referencing a women's rights speech Ms. Clinton gave in China as First Lady.
"I was just a young lawyer at the time, but I thought, 'Gosh, What am I doing with my life? I'm not changing the world. I should be doing something. I should be in Beijing, I should be advocating for women's rights,'" she continued. "And I realized at that moment that I would never be able to do that unless I was involved in politics."
Transitioning back to 2016, she said Ms. Clinton's new job has uniquely prepared her for the Oval Office.
"Just looking at her today, the stature that she has, the respect that she's given, she knows every world leader," she said. "She's so well poised in my view to really be such an amazingly strong candidate for president in 2016."
However, there's another prominent New Yorker who, unlike Ms. Clinton, is widely thought to be very interested in a presidential run: Governor Andrew Cuomo. Asked about the possibility of supporting Ms. Clinton over Mr. Cuomo, Ms. Gillibrand simply suggested Mr. Cuomo's sole focus is his current job (an argument one could make about Ms. Clinton as well).
"Well, Governor Cuomo is doing an outstanding job as our governor, and I have extraordinary respect for him, and he's doing a wonderful job, but I know he's 100% focused on being governor," she answered.
Pressed again on whether she thinks Mr. Cuomo won't run, she repeated, "Well, he's certainly talented enough, but I know with everything he's said to date, he's really just focused on being the best governor he can be."