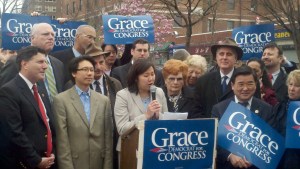 The New York State Independence Party broke off its recent string of endorsing Republican congressional challengers to endorse Democratic Assemblywoman Grace Meng this afternoon.
The news, first reported by City & State, was confirmed in a subsequent statement sent out from her campaign. Although City & State suggested it might be Congressman Joe Crowley's relationship with the Independence Party that triggered the endorsement, the organization itself cited Ms. Meng's passion and and political positions.
"Grace is a serious person who impressed me with her commitment to problem-solving that embraces all of the communities in the district," the chairman of the party, Frank MacKay, said in the press release. "Grace is focused on creating jobs and has a 'whole family' approach to issues, embracing grandparents, children, and the parents working hard to take care of them. "
Ms. Meng is campaigning for the Democratic nomination against Assemblyman Rory Lancman and Councilwoman Liz Crowley.
Mr. Lancman already nabbed the Working Families Party endorsement, which means both he and Ms. Meng could theoretically continue their campaign into the general election after losing the Democratic primary.
The expected Republican candidate is Councilman Dan Halloran.