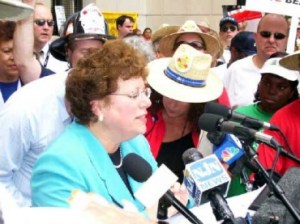 Hours after Hamilton Township Mayor John Bencivengo was charged in a bribery scheme, one lawmaker was already calling for his resignation.
Democratic state Sen. Linda Greenstein, who represents Hamilton in the Legislature, said Bencivengo had lost the trust of the people and should step down.
"The allegations against Mayor Bencivengo are deeply troubling," Greenstein said in a statement. "His actions are a betrayal of the trust of the people of Hamilton and a grievous violation of every standard of government service and responsibility. The people of Hamilton have the right to be offended by the actions of the man elected to serve their needs."
Bencivengo was arrested early Thursday on charges that he accepted a bribe in exchange for using influence to help secure a health insurance contract. According to the complaint, a confidential witness recorded Bencivengo asking for "help" with living expenses in exchange for speaking to a school board member on the witness's behalf to help ensure the health insurance contract was renewed and not put out to bid.
The witness allegedly paid Bencivengo $12,400 through an intermediary.
Though rumors have swirled that his resignation was imminent since news that Bencivengo was the subject of a federal investigation was reported last week by the Times of Trenton, he has yet to step down. Attorney Jerome Ballarotto, who is representing Bencivengo, said Thursday after his court appearance that Bencivengo has no plans to resign.
He was released on $100,000 bail.