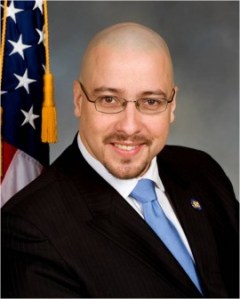 Bronx State Senator Gustavo Rivera gave his endorsement to fellow State Senator Adriano Espaillat in his race against veteran congressman Charlie Rangel. The endorsement is significant because Mr. Rivera's home base in the Bronx is new territory for Mr. Espaillat, who currently represents Upper Manhattan and Riverdale.
"As a fellow senator, I have watched Adriano successfully fight for working families and immigrants," Mr. Rivera said in a statement. "I am proud to endorse Adriano for Congress because he will bring the same passion and energy to Congress and deliver the change we need in Washington D.C. I look forward to campaigning for Adriano, particularly in the Bronx, to get him elected as our next Congressman."
Mr. Rivera's endorsement is also significant because he is Puerto Rican while Mr. Espaillat is of Dominican descent. In a recent interview on the Perez Notes, Mr. Rangel's campaign manager, Moises Perez, claimed Puerto Rican leaders were unanimously backing his candidate.
For his part, Mr. Espaillat said he was "proud" to have the support of Mr. Rivera, who he called "one of our brightest young leaders in New York."
"Together, we have fought in the State Legislature for jobs, housing, education, and immigrants. We can continue to make progress by bringing new, bold ideas to Congress and the change Manhattan and Bronx voters are looking for," Mr. Espaillat said.