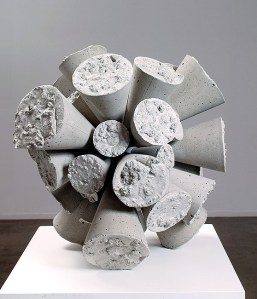 Today, the organizers of the first ever Frieze New York fair announced the selections for the art fair's sculpture park, located just two minutes from the tent where the fair will be held.
As we've previously reported, Tom Eccles, the executive director of Bard's Center for Curatorial Studies, made the selections the park. You can find the whole list of works from the press release, complete with galleries providing the works, below!
James Angus
Concrete Cloudburst (2012)
Gavin Brown's enterprise

Rathin Barman
Untitled (2012)
Experimenter

Louise Bourgeois
Untitled (2004)
Hauser & Wirth

Christoph Büchel
Shoe Tree (2008/2012)
Hauser & Wirth

Joshua Callaghan
Two Dollar Umbrella (2011)
Steve Turner Contemporary

Ryan Gander
Everything is Learned (2010)
Lisson Gallery

Subodh Gupta
Et tu, Duchamp? (2009/2010)
Hauser & Wirth

Jeppe Hein
Geometric Mirrors I (2010)
303 Gallery/Johann König

Ernesto Neto
I wanna bite you, Baby! (2012)
Tanya Bonakdar Gallery/Galeria Fortes Vilaça

Susan Philipsz
We All Go Together (2009)
Tanya Bonakdar Gallery

Jaume Plensa
Yorkshire Soul III (2010)
Galerie Lelong

Tomás Saraceno
Pollux (2012)
Tanya Bonakdar Gallery

Katja Strunz
Folded Triangle 4073 (2012)
Gavin Brown's enterprise

Cerith Wyn Evans
'And If I Don't…' (2012)
White Cube
Keep an eye on that Christoph Büchel, organizers. He can be somewhat particular.