The Mega Millions jackpot might be over, but we're still waiting to hear who will take ownership of the golden tickets. There seems to be some dispute over who the winners actually are. The winning numbers were sold in Maryland, Illinois and Kansas, but so far no one has stepped forward to stake claim to their third of the $640 M. jackpot. Someone needs to step up, and soon, as we learned from this weekend's premiere of HBO's bloody Game of Thrones. Without a clear winner, all you have is confusion and not nearly enough screen time for Peter Dinklage.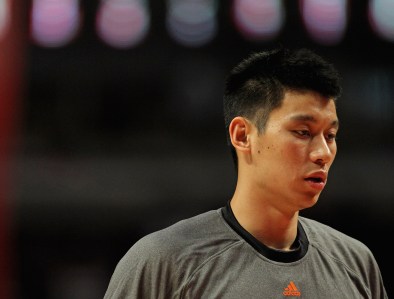 We know who we would give the money to: Jeremy Lin, the poor guy. Linsanity lasted approximately a month, in which the Knicks point-guard was the hottest thing since the Rolling Stones showed up in America and pissed off Don Draper. But after a recent knee injury, his career is being put down faster than one of the horses in Luck. Refusing to give up, the basketball sensation is still tweeting about his recovery from the hospital. He's not out yet!
Maybe he could team up with Kris Humphries of the New Jersey Nets, who is refusing to give up and annul his marriage to reality TV robot, Kim Kardashian. He says he's not in it for the money, but rather wants an apology from his wife of 72 days, and an admission that she and her family made money off their publicity stunt of a wedding. We're sure Ms. Kardashian would admit it if she actually believed it to be true; unfortunately she's spent so much time turning herself into a human brand that she probably doesn't understand the issue. Doesn't everyone get married for money (and an E! Special) these days?
Well, at least we know there's some class left in New York: the celebrities are beginning to arrive for the Tribeca Film Festival, co-founded by Robert DeNiro and made famous by that Jay-Z song. French beauty Catherine Deneuve did not inspire any Repulsion while being honored Monday night at the 39th Annual Chaplin Award Gala. The Film Society of Lincoln Center's gala brought out the heavy-hitters to honor Ms. Deneuve: Glenn Close, Susan Sarandon and Paul Feig were just several of the attendees to show their Franco-appreciation. It makes sense; we need someone to deify now that Jeremy Lin's off the court.