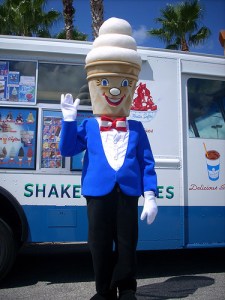 It's one thing to stop for a pomegranate frozen yogurt on the way home from the park, but Park Slope parents have had it with those ice cream trucks that are always lurking around the playground. (And no, this has nothing to do with boycotting Israel.)
In true Park Slope fashion, parents have taken to the infamous Park Slope Parents blog to air their grievances with the trucks, The New York Post reports. And rather than teaching kids to deal with temptations and master their impulses, parents would like those temptations removed. Now! Please.
"Along with the first truly beautiful day of the year, my son and I had our first ruined day at the playground," one Mom posted on the blog, according to The Post. "Two different people came into the actual playground with ice cream/Italian ice push carts. I was able to avoid it for a little while but eventually I left with a crying 4-year-old."
To make matters worse, some parents are actually patronizing these horrible trucks—setting off a chain reaction of demands from every other child.
Kicking the trucks to the curb—one located far, far away from their multimillion-dollar brownstone—would seem to be the only solution. But one mother, whom The Post quoted anonymously to protect her from playground reprisals, offered a controversial alternative—that parents say "no" to the whining and begging.
"I say no to him all the time, and I feel his wrath. But he needs to hear that no," the woman said, describing her highly unorthodox  parenting methods.
kvelsey@observer.com