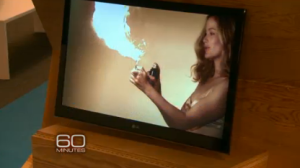 In all the hubbub over Morley Safer's segment on 60 Minutes in which he trashes the art world on a visit to Art Basel Miami Beach, a follow-up to his 1993 dig at the industry, one thing we haven't heard much of, at least not from Mr. Safer, is the names of the artists he shows in his segment—like Ryan McGinley, who made the video of a scantily clad woman holding a make-shift blowtorch, or Mike Kelley, responsible for the installation of sewn stuffed animals and Jennifer Rubell, whose interactive life-size sculpture of Prince William makes an appearance. And while Mr. Safer presents these works as emblems of his confusion and dismay at what has become of the art world, we can't help think what a thrill it is to see Paul McCarthy's large pink sculpture of a libidinous dwarf, White Snow Dwarf (Bashful), on national broadcast television. Savoring the moment with a few more artists, here's a breakdown of some more work we found in the segment, each one paired with one of Mr. Safer's signature bon mots at the time of their appearance.
2:28 Tony Cragg sculptures including Mixed Feelings (2011) at Thaddeus Ropac ("Upscale flea market")
2:37 Jennifer Rubell's interactive sculpture I'm Engaged to Prince William ("there's very little sense of an aesthetic experience here")
2:42 Takashi Murakami's sculpture of a giant panda ("what you hear is the cacophony of cash")
2:47-2:50 Jaume Plensa, Marianna W followed by an installation view of A Gentil Carioca, Rio de Janiero ("this fair seems to be about art as stuff or stuff as art")
2:51 Mike Kelley installation of stuffed animals sewn together at Tony Shafrazi ("just so much merchandise")
2:58 Picasso ("There are some timeless gems")
2:59 Helen Frankenthaler's Blue Reach ("maintaining a quiet elegance")
3:00 Sean Landers's clown painting ("But they're shouted off the walls")
3:01 Paul McCarthy's White Snow Dwarf (Bashful) at Hauser & Wirth ("by the kitsch")
3:03 Red rose by Will Ryman at Paul Kasmin (with a Kenny Scharf painting in the background) ("the cute")
3:05 Paulo Nazareth's sculpture of bananas falling out of a van at Mendes Wood ("and the incomprehensible")
3:07 Erwin Wurm, Police Cap (2011) at Thaddeus Ropac ("oversized headwear")
3:25 Video of a nude woman with a make-shift blowtorch, Ryan McGinley at Team Gallery ("And then there's the question you've been dying to ask. How much is this stuff worth?")
4:37 Installation by Do Ho Suh at Lehmann Maupin ("do baby blue translucent bathroom fixtures prick the imagination? Does that toilet seat raise our spirits?")
4:44 pink Erwin Wurm sculpture ("or is this the biggest scam")
5:30 Nobuo Sekine Phase-Drawing2 (Topology16) at Blum and Poe ("renowned for discovering the sharpest of cutting edge art")
6:53 Kara Walker drawing ("Eli Broad, the one-percenter of one-percenters," "collectors like Mr. Broad get first dibs on the really good stuff")
7:12 Cindy Sherman ("[Eli Broad] was one of her first collectors. He first bought her pictures back in 1982 for $250.")
7:40 Mary Boone booth with Warhol (yellow cow prints against blue in the background) ("For dealers the gold standard is selling to a major museum")
8:05 Anish Kapoor ("[Jennifer Stockman, Alexandra Monroe] and Barbara Gladstone went ape over this sculpture by Anish Kapoor")
8:16 Haegue Yang installation ("this tangle of extension cords")
9:14 Walking with Jeffrey Deitch into Larry Gagosian's booth, in which there are works by Liechtenstein, Warhol and Jeff Koons ("the famously reticent Larry Gagosian")
9:35 Jeff Koons painting Ribbon ("[Jeffrey Deitch] could not resist reminding us of our report of 1993")
11:04 Gerhard Richter painting ("certainly a bargain if your daddy's a billionaire")
13:02 Zhang Huan, 49 Days ("Easier to look at than pork bellies")
13:04 Nick Cave, Soundsuits ("or maybe not")
Some others we spotted were a Christopher Wool at Luhring Augustine and Thomas Houseago's Ghost of a flea at Hauser & Wirth. If you spot some more, let us know in the comments below.