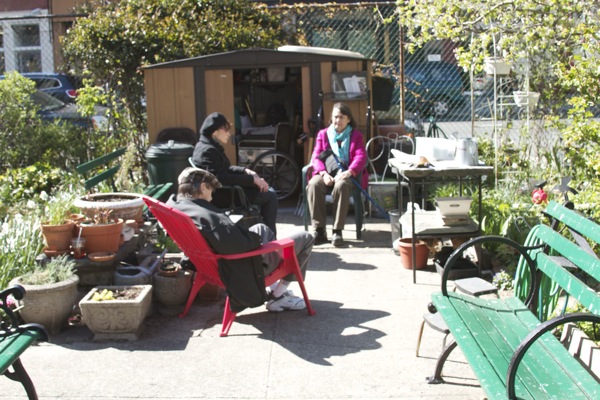 The arguments for NYU's, creatively named, "2031" expansion have been predictable in their rhetoric: You shouldn't—and, frankly, can't—stand in the way of change. The majority of press in the city has adopted this stance and backed the new proposals. Now Manhattan borough president, Scott Stringer, has given his approval, albeit with stipulations that reduce the build by some 20 percent.
Those who disagree with the 1.9 million square foot expansion have been cast as one-dimensional curmudgeons who are stuck in the past. "Change never comes easy to New York" read a Times op-ed. Really? In more polemic media, the anti-expansion crowd have even been accused of wanting to "steal" one of NYU's buildings.
"I think they pretty much get what they want, I feel like they are a little principality," Diane Peterson said of the university, sitting on a stone slab in La Guardia community gardens, the southern block of the two "Super Blocks" that most of the 2031 plan is based upon.
Ms. Peterson has maintained her plot, where she grows tomatoes and roses amongst other shrubs, for more than three decades. Although NYU does not own the land that La Guardia Gardens is situated on—it belongs to the Department of Transportation—if the planned expansion does go ahead the garden will be embedded in the midst of a construction site for some 20 years.
"When we first had this garden in 1981, there were people in building 505 that didn't want the garden here," Ms. Peterson said, referring to one of the Silver Towers while recalling the original birth of the garden, which may hold sway with the current conflict. "They were making a lot of noise at the community meetings, saying there wasn't enough room for a garden—acting like it was a nuclear plant we wanted," she said, leaning forward. "So we—the original people in the garden—went to the building, and it turned out most of the people were in favor of it, just they didn't make any noise about it."
The garden pops up out of nowhere, a little unexpected green retreat of solitude in the middle of the city. Indeed the scene on a recent Saturday, as three regulars kicked back in lounge chairs, made it seem like a Virginia shrub garden had been transposed to downtown Manhattan. But for the din of traffic from Houston, a viewer would be forgiven for thinking it wasn't. Twenty-five people have their own plots, but the garden is open to the public, the gardeners grow everything from shrubs to roses, tomatoes to garlic. Situated where it is, in some of the most expensive real estate around, its existence really is an anomaly.
"I can't tell you," said a concerned Ellen Reznick, when trying to explain what the garden meant to her and the community. She has had her plot for 10 years. "We get a throng of visitors, people are in awe of this," she continued. "It's such a vitally important space. Not just for the neighborhood, but for visitors and tourists too." Supporters of the planned expansion argue that it is nostalgia for an imagined old Village, and stubbornness to change, that stands in the way of progress. But is that always so bad? "I think about it all the time," said Ms. Reznick, her expression almost pained, "I think about it and with great agitation."
NYU Director of Public Affairs Phil Lentz said that the university is studying how to minimize any impact to La Guardia Gardens as much as they possibly can, although that's being met with some skepticism.
"They believe that even though it's city land, that they can go under or over," said Gretchen Irwin a relative newcomer to the garden, maintaining a small plot with her husband since last summer. "It's very sneaky, NYU is supposed to be a university, but they have a tax exempt status. They are actually one of the biggest real estate developers in the world. They're not doing this for purely educational reasons."
To the casual by-passer the gardeners could be accused of overstating their point, but NYU has bypassed zoning laws in the past. Ms. Peterson herself recalled a meeting at Cooper Union, when the plans where put forward for new dormitories on Third Avenue, between 11th and 12th streets. "There was a long table with all the NYU people at it, and they said 'NYU has always had 30,000 students and it was not going to expand', they have 44,000 students now and they want 60,000."
Walk across the street. and you'll find Washington Square Village, NYU's faculty residence buildings, which is the second of the two "super blocks." On weekends the playground is a clamor with the echo of children, many of them NYU offspring. Across the way, others read under trees and eat al fresco. Part of Borough President Stringer's stipulations to NYU 2031 mandated that a temporary playground be operated throughout construction. However, that hasn't been enough to calm some faculty members, who are concerned about what will happen to their neighborhood.
"My concern is that even after I'm not alive, they're going to ruin this area in terms of density, there's going to be so many buildings and people that it's not going to be the Village anymore, its going to be like Midtown," said retired professor Pat O'Hara, who has lived in her apartment in Washington Sq. Village for 25 years.
"We are in fear and dread, we've had to think of moving," said another current faculty member, who didn't want to be named ("not tenured, so…"). "We love our apartment, we love our community. The fear is the noise pollution, it will be unlivable having a construction site here."
The lifeblood of any school is arguably the faculty, and the university has managed to take advantage of the strong New York allure, but **the advent of cranes and diggers may make some think twice. "They won't attract quality, they'll attract adjuncts," said the anonymous professor. "I mean, they always attract adjuncts! But they won't attract quality."
"The University could really decline," Ms. O'Hara agreed, "they are not looking at that issue, and it's a really important one.
"We think the reverse is true," NYU's Mr. Lentz countered. "NYU's lack of academic faculty and lab space has been an impediment to attracting the type of faculty members that we want, and without more space we are not going contribute to greater faculty at NYU."
The fact is the plans are going to the City Council this summer, and with the backing of the current mayor—and the prospective ones—all points towards NYU's expansion happening, with the likely possibility of a few more concessions.
For Diane Peterson and her friends at La Guardia, they will continue to go about their business, toiling their small patch of land, until told otherwise. If worst comes to worst for Ms. Peterson, she'll have to adapt. "Window boxes" she said, laughing candidly, "Window boxes… that's it. Window boxes are all I'm going to be gardening!"
realestate@observer.com