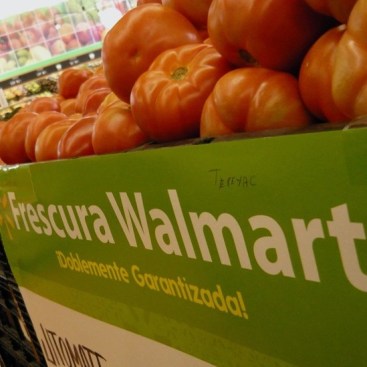 Walmart is in a pickle, and not the kind that can be found in the canned goods aisle. Following the Mexican bribery scandal, pols high and low have reaffirmed their opposition to the store. But they are not the only ones. Even some of the big box retailers staunchest supporters have come out against the company, namely Greg David.
The Crain's columnist and former editor for three decades of the influential business weekly is a big believer in capitalism and its important role in shaping the city—he just wrote a book about it. To that end, he has long supported Walmart's efforts to open a store in the five boroughs (14 times at last count). Yet now, in light of the scandal, even Greg David doubts Walmart will ever open in New York. And he believes this is all Walmart's fault.
For the past three years, ever since the mayor announced his support for Walmart during the 2009 mayoral race, it looked like the company might actually worm its way into the city, following previous setbacks and roadblocks pushed by labor unions and the City Council. It would build as-of-right and with popular and political support. But as the economy turned, the company dithered, and now the political math is no longer adding up, Mr. David argues.
Walmart squandered all that momentum by not announcing a plan to open stores. It is true that giant companies like Walmart march to their own beat, but the months of silence have clearly eroded its position.

The Mexican scandal hurts in two ways. It obviously means any move in New York will need to be delayed until the publicity dies down. More importantly, The New York Times story suggests current CEO Mike Duke, the driving force behind the effort to move into New York, could be implicated.

With the clock ticking toward a new mayor, Walmart may have just blown it.
Still, all is not lost. Mayor Bloomberg, supporter of all things free market and soulless, told reporters they should not rush to judgment on the retailer, according to Capital New York.
"No, I've not been a big supporter of Walmart," said the mayor. "I've been a big supporter of government not telling people whether they can do business here. I think you let the market decide whether people want jobs or not, whether people want to buy products at given price ranges for different types, and I think that that's exactly what this is all about. I have no idea what Walmart did in Mexico, whether any of that stuff's true or not. We'll have to see. There's one story in the paper."
There is more than a year until the mayor leaves office, plenty of time for Walmart to try and get things done. And really, how many Walmart shoppers read The New York Times?
Still, the stain of bribery gives the project's opponents ample opportunity to spread the word against the company, as they did at a rally on the steps of City Hall this afternoon. No sooner did the events begin at 2 p.m. than a statement popped up in our inbox, reaffirming the Walmart march continues.
"Our track record as a good corporate citizen is well known and in large cities like New York, residents continue to choose to shop and work at Walmart," company spokesman Steve Restivo said. "As a result, we continue to evaluate opportunities here to make access to our stores more convenient for customers."
The fighting has been heady so far, but if it continues, expect things to heat up on both sides.