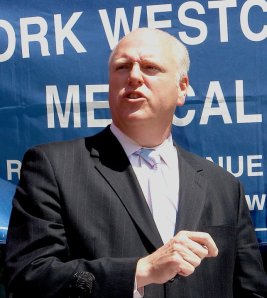 Congressman Joe Crowley, the head of the Queens County Democratic Party and a supporter of Assemblywoman Grace Meng's congressional campaign, has only one thing to stay about Assemblyman Rory Lancman's charges of a plot to split the Jewish vote in Ms. Meng's favor: Mr. Lancman is misinformed.
So went the conversation following a Jackson Heights press conference earlier this afternoon on expanding visa access for tourists.
"He's misinformed," Mr. Crowley said bluntly when The Politicker first brought up Mr. Lancman's argument. A long pause followed as both reporters questioning him waited for additional commentary.
Asked about City & State's report that a top aide to Ms. Meng's campaign encouraged an additional Jewish candidate to get into the race, Mr. Crowley said, "I have absolutely no information on that."
The Village Voice's Sam Levin then tried again asking Mr. Crowley about the allegations, undoubtedly hopeful that Mr. Crowley would expound on Mr. Lancman's alleged misinformation.
"I think he's misinformed," Mr. Crowley again replied.
The Politicker then craftily attempted to devise a hypothetical, asking if a candidate were in the race simply to split the vote, should that be condemned?
"I don't think it's unusual that, in an open seat, you have many people running," he answered. "They see an opportunity that's never been there before. And, as somone who's been involved in politics for a long time, I'm not that surprised they're running."
"And, as I said before, I think Rory is misinformed," Mr. Crowley unsurprisingly added.
We last tried asking if Mr. Crowley was willing to categorically state no official in the Queens County Democratic Party was involved in any kind of scheme to get additional candidates in the race to divide the vote among certain constituencies.
He replied with a familiar answer, simply saying, "As I've said before, Mr. Lancman is misinformed."