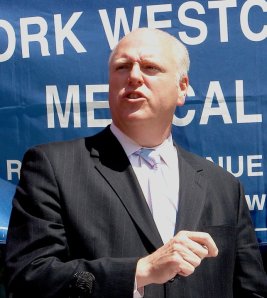 Congressman Joe Crowley is running for reelection in a highly Democratic district without any announced opposition, but he's not slouching off on his fundraising.
According to his recently filed campaign finance report, he raised $553,729 in the first three months of this year, leaving him with an impressive $1.1 million cash on hand. This is more than candidates running in actually competitive races typically raise.
Mr. Crowley's haul represents a sharp uptick in his fundraising pace. In his last filing he raised just north of $300,000, and in April of last year, he pulled in $165,000.
His district, reconfigured in redistricting and stretching from Queens to the Bronx (Mr. Crowley spent money trying to influence the redistricting process), contains a strong Latino plurality. However, his giant pot of cash and his stature as the head of the Queens County Democratic Party would be a significant deterrent for any aspiring politician in future years to considering running against him in a primary.
Additionally, Mr. Crowley, an official in the Democratic Congressional Campaign Committee, raises significant amount of money for his colleagues in more challenging races than his own.