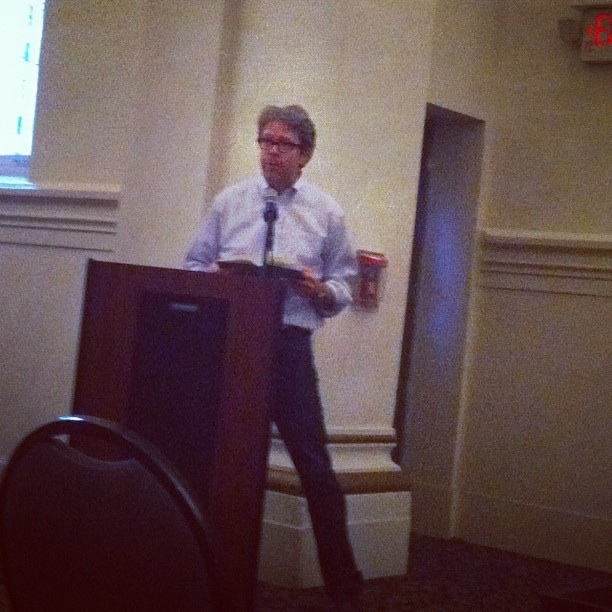 The first thing the Observer noticed about Jonathan Franzen was that he was wearing a name tag. It said "Jonathan Franzen."
We asked him if he usually wore name tags to his readings.
"Everyone is wearing one but you," Mr. Franzen pointed out. This was true. In what appeared to be an act of almost defiant social leveling, the organizers of last Thursday's Semiperm House's fifth anniversary celebration/Jonathan Franzen reading had given everyone a name tag.
We admired the organizers for this gesture, just as we admired Mr. Franzen for the unassuming way that he shuffled along with the group on a brief tour of Semiperm, a low-income residence for single-parent families on 102nd Street and Amsterdam Avenue. The tour ended in the building's rec room, a cheerful, utilitarian space where housing advocates milled around a table of snacks decorated with balloons.
It was the kind of pleasant, unmemorable gathering that you would expect to mark the 5-year anniversary of an affordable housing project, or it would have been if not for the perplexing presence of a literary superstar in the middle of it all (well, not really in the middle, more off to the side, trying to look inconspicuous, an as-yet-unreleased book of essays tucked under his arm). At 7 p.m. the group would leave en masse for the hostel a block away where Mr. Franzen was scheduled to read.
Affordable-housing-celebration-plus-literary-reading may have been an unusual double bill, but then, Semiperm was a place of odd, high-low convergences: a house for the formerly homeless whose construction was financed by housing vouchers that the developers of 15 Central Park West—quite possibly the most luxurious, expensive condo building in the city—had purchased in exchange for building an additional floor atop their limestone tower.
Still, we were curious what Semiperm residents thought of the whole thing. They were scarce, but we finally managed to locate two women talking quietly in all the congratulatory hubbub.
Had they read Jonathan Franzen?
They hadn't. "I just know he's part of the Oprah book club," said 20-year-old Shareem Lloyd, who had evidently not heard of Ms. Winfrey and Mr. Franzen's falling out or subsequent reconciliation.
En route to the hostel, we asked Mr. Franzen about how he selected which readings to attend—and what we were really wondering—how he had ended up at this one.
It turned out, Tom Barbash, a novelist and friend of Mr. Franzen's, is the stepson of the Settlement Housing Fund's executive director Carol Lamberg, who arranged the reading after learning that Semiperm director Doreen Gibbs was a big fan of the Freedom author. "I actually liked that he turned down Oprah," Ms. Gibbs told the Observer. "He writes things that show the ugly side of people, he puts it out there… he's just badass. You can call him call him cocky, or arrogant, but you can't call him bad."
It turned out that Mr. Franzen was also a big, if newly-minted fan of Semiperm, "When I heard about Semiperm, I thought this is exactly the kind of project we need," he said. "Also, it's ingeniously funded…although one could make the case that selling air rights, as the city did, is maybe not the best way to fund these things."
Still, Mr. Franzen confessed that he was hoping tonight's event could be converted to a short Q&A. "I usually love reading, but I feel that this is really Semiperm's event," he said.
We agreed that it was something of an odd match.
Upstairs, the spacious reading room was slowly filling to about two-thirds capacity. Having prepared ourselves for the kind of literary mob that makes it impossible to find a seat during MFA student readings at KGB bar, we sighed with relief as we dropped into a spot near the front.
After remarks from Ms. Lamberg, Housing Preservation and Development commissioner Mathew Wambua and city councilmember Melissa Mark-Viverito, Mr. Franzen reluctantly stepped up to the podium, commenting on the awkwardness of combining a literary reading and a celebration for long-term transitional housing.
"This seemed to me like the frivolous part of the evening," he said. "Making up stories for a living can feel very airy-fairy."
He would be reading non-fiction, he announced, to assuage his Protestant discomfort with reading at all, unless "by spontaneous consensus we all decide to move straight to wine and dessert."
A grim silence followed, so Mr. Franzen launched into a long rant against technology, specifically cell phones, from his 2008 essay, "I Just Called to Say I Love You."
We tried to focus, but were hopelessly distracted by the woman next to us, who was compulsively Googling "Jonathan Franzen" on her iphone.
As Mr. Franzen described subway riders "quiet clutching their devices like a mother's hand," the woman scrutinized the photo she had just taken of Mr. Franzen. Apparently satisfied, she tweeted it out: "Rare reading by Jonathan Franzen."
Next she launched into a Telegraph article, looking up momentarily, much like a train passenger registering the scenery over a newspaper, as Mr. Franzen again suggested that we skip this whole reading thing.
Another tweet: "Jonathan Franzen would hate that I just tweeted about this." Indefatigable, she moved on to Mr. Franzen's Wikipedia page, but The Observer had finally wearied of her browsing frenzy.
The Q&A portion began.
What desire had motivated Mr. Franzen to write Freedom?, queried a man in the audience.
"That's a very personal question," said Mr. Franzen. He tried to offer up "the least charged" example of a character in the book being hired for a bizillionaire. But it wasn't working. "Oh gosh, oh gosh," Mr. Franzen said. "Now I said that thing about desire, I invited the question." He hemmed and hawed. He couldn't talk about Freedom or The Corrections, he said. He'd have to go back to the early 1990s to be safe, when he was starting his second novel Strong Motion.
He sighed. "I think I didn't want to be married anymore and the inkling of things I might want if I wasn't married anymore."
That was personal! And oddly winning, maybe even winning enough to outweigh Mr.Franzen's repeated pleas to leave the event. There was something about the his mixture of guilt and duty, sincerity and awkwardness, reserve and weird candor that seemed straight out of, well, a Jonathan Franzen novel.
Mr. Franzen took "one of the last questions."
"So, desire…?" began the asker, a woman.
"Oh God!" cried Mr. Franzen. He gave the audience a beseeching look, but they were immune to his entreaties by that point, and shifted attentively as the woman pressed on.
kvelsey@observer.com