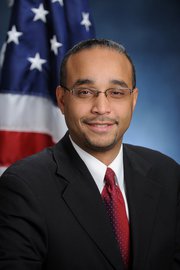 Last month, State Senator José Peralta formed a campaign committee for a possible run for Queens Borough President, and, at least according to fundraising requests being circulated on his behalf, he seems to be moving forward with his campaign.
In an email from political consultant Greg Petzold, which a reader said was being sent to organizations and non-profits in Queens, Mr. Petzold directly indicates Mr. Peralta is campaigning for the borough presidency.
"I hope all is well," he writes. "Senator Peralta asked that I follow up with you regarding your support for his effort for Queens Borough President. He would appreciate an opportunity to discuss his vision for Queens and the City at length and any help financially you can provide would be greatly appreciated."
Attached to the email was a contribution card for the recipients to fill out.
Other likely contenders for the seat, which won't be open until 2013 when the incumbent, Helen Marshall, is term-limited out, include Council Members Peter Vallone and Leroy Comrie. One candidate who previously seemed interested, Assemblywoman Grace Meng, is currently campaigning for congress, which, if she wins, would seem to remove her from the field of potential candidates.
Mr. Petzold declined to comment.