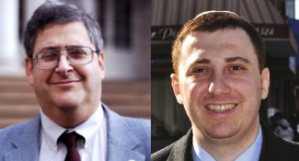 At the end of last week, lawyers representing the two candidates in the special election to replace Carl Kruger in the State Senate agreed to a court proceeding to resolve which candidate ultimately received more votes. Republican candidate David Storobin is currently leading by a single vote, but Democrat Lew Fidler is feeling confident.
The judge has appointed two "Special Referees" to hear ballot objections made by both sides on the contested absentee votes (i.e. one campaign may believe signature similarity on certain ballots indicates the votes were fraudulent).
On April 4th, the judge will review the Special Referees' findings.
This could either close the book on the election by officially placing one of the candidates above the 110 vote threshold needed to avoid a full hand recount, or set the stage for such a recount where campaigns and the courts review all 20,000 ballots cast in this election.
View the campaigns' legal agreement below:
Correction: The original post incorrectly said the process would begin April 4th instead of being reviewed on that date.