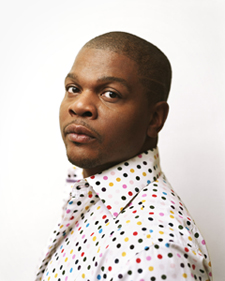 Artist Kehinde Wiley will have his first solo show with Sean Kelly Gallery on May 5. For the occasion, he is presenting, for the first time, a series of portraits that focus on women as his subjects.
Here's some info according to a press release:
Instead of representing the models in their own clothes, as is the case with his portraits of men, Wiley has collaborated with Riccardo Tisci, Creative Director of the famed French couture house Givenchy, to design long dresses for the women. As creative collaborators, Wiley and Tisci spent numerous hours together walking through the galleries of the Louvre and discussing both the aesthetic and conceptual context for the project, specifically society's ideals of feminine beauty and the frequent marginalization of women of color. Following these conversations, Tisci designed six unique dresses for the models.
The show is called "An Economy of Grace." In a statement, Mr. Wiley said, "This series of works attempts to reconcile the presence of black female stereotypes that surrounds their presence and/or absence in art history, and the notions of beauty, spectacle, and the 'grand' in painting."
He has based the poses of his subjects on portraits of society women by Jacques-Louis David, Thomas Gainsborough and John Singer Sargent and others.
Another woman Mr. Wiley has painted recently is the musician Santigold. His portrait of her appears on the cover of her new album, The Master of My Make-Believe, out May 1.