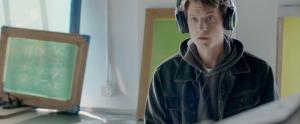 A 21-year-old director who really likes Shepard Fairey is asking Kickstarter for $30,000 to make a 25-minute narrative film about early life of the street artist.
"The film approaches the origin of OBEY in a similar fashion to how The Social Network approached the origin of Facebook," writes director Julian Marshall. He has the life rights for this period in Mr. Fairey's life, he assures us.
The trailer seems a little like a Saturday Night Live parody. Watch young Shepard boldly graffiti a political billboard. You can imagine how mad that politician gets when he sees it. Oh gosh, just so mad. Anyway, take a look.
Thanks to Animal New York for the tip!