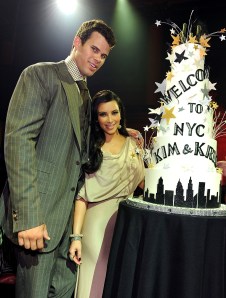 Kris Humphries is going to remain part of the Kardashian clan as long as he can: the New Jersey Nets player is refusing to sign the divorce papers on his 72-day marriage to Kim Kardashian until she "apologizes"for what he is claiming was a staged wedding and admits that their wedding was a for-profit only affair.

Several days ago, Mr. Humphries filed paperwork demanding to see how much money his wife "made" off their wedding and in the subsequent months. The New York Post has sources saying that for the NBA star, it's not all about the dollar$: Ms. Kardashian has allegedly offered $7 million for her separated hubby to "shut up and go away."
Collectively, we wouldn't mind pooling our money and making the same deal with the entire Kardashian family.