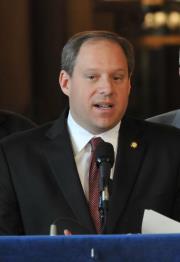 Following City & State's report that a top operative to Assemblywoman Grace Meng's campaign, Michael Nussbaum, encouraged an additional Jewish candidate to get into the race, the campaign of one of Ms. Meng's rivals, Assemblyman Rory Lancman, directly accused her of a deliberative scheme to split the district's Jewish vote and called for the situation to be starkly rectified.
"Today, the Meng campaign has been caught red-handed in one of the most malicious schemes any of us have ever seen: an outrageous ploy to deceive Jewish voters with a fraudulent candidate designed to manipulate the electoral process in her favor,"  Mr. Lancman's campaign manager Mark Benoit said in a statement. "Based on today's revelations, Grace Meng owes the voters an apology for concocting this sham, and Grace Meng should fire her main campaign operative Michael Nussbaum for his role in perpetrating this fraud."
Ms. Meng's campaigns spokesman told City & State that Mr. Nussbaum was only jokingly suggesting the other candidate, state committeeman Matthew Silverstein, jump into the race. It appears, however, that explanation was insufficient to stop Mr. Lancman's campaign from believing serious foul play is at hand.
There are similar allegations surrounding a Jewish candidate who did actually enter the race, Jeff Gottlieb. His campaign has promised to answer the charges after the filing deadline next week.
A fourth Democrat, Councilwoman Liz Crowley, is also in the race, but has largely kept her head down as Mr. Lancman's campaign leveled charges against the other candidates.