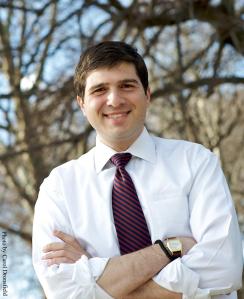 Andrew Gounardes is taking his fundraising pitch to the LGBT community as he seeks to unseat Republican State Senator Marty Golden. At a reception tomorrow evening, Mr. Gounardes will notably be joined by four openly LGBT elected officials: State Senator Tom Duane, Assemblywoman Deborah Glick, Councilman Daniel Dromm, and Councilman Jimmy Van Bramer.
The event, also attended by Manhattan Borough President — and 2013 mayoral candidate — Scott Stringer, is even directly billed on Facebook as an "LGBT reception" and is jointly hosted with Brooklyn's main LGBT club, Lambda Independent Democrats, so there's little question as to the fundraising angle involved.
Mr. Golden is known as one of Albany's more passionate opponents of gay marriage and even partnered with outspoken State Senator Ruben Diaz Sr. to introduce legislation last year to roll back recognition of gay marriages performed in other states, a move that, although largely symbolic, upset some of New York's famously deep-pocketed LGBT constituencies.
Mr. Gounardes, a supporter of gay marriage, will need every dollar he can get as he competes in an uphill battle against the incumbent, who's capable of raising hundreds of thousands of dollars himself.