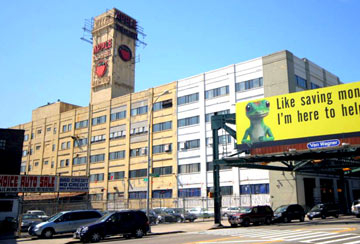 It's Queens' time to shine!
Long Island City was once a barren post-industrial wasteland, but recent efforts are shifting the borough into a plausible location to live. Jet Blue flew its headquarters over two years ago and Queens Plaza is booming with real estate, but is it really New York if you aren't living next to some college students?
Of course not! The vacant building at 30-30 Northern Boulevard will become a massive commercial complex next year and a university campus within the next five, the Daily News reports.
Alma Realty has started the gutting process and plans to add two new stories that will increase the building's square footage to 270,000 square feet.
"This is an opportunity to impact the neighborhood in a positive way,"  George Valiotis, project director at Alma Realty, told the Daily News. "We really believe in this area."
The previous owners had proposed a 19-story, 900-room complex for students but that plan was squashed. Mr. Valiotis further noted, however, that Alma Realty plans to "build a university campus on the property and hopes the school will be up and running in five years."
He's talking all out, too–classrooms, amphitheater space, and even a museum, though no specific school is yet affiliated.
Now it's time to convince out-of-town parents that Queens is a safe and scholastic environment!
mewing@observer.com