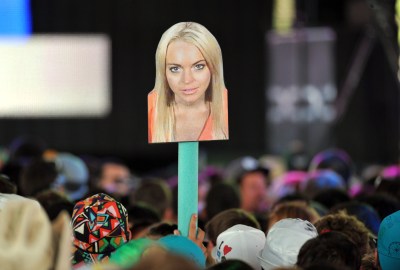 Yes, the reports are true. Lindsay Lohan, who probably, sadly, defines the cinematic voice of  "our generation" more than Lena Dunham (not all of us have friends who've had a magical miscarriage, but we've all known hot messes who shoplift, do too much Adderall, and decide to briefly try out lesbianism), has landed the part of icon Elizabeth Taylor in the TV movie Liz & Dick. Ms. Lohan has been vying for this job for months, even behaving herself–or at least, trying to– during Fashion Week to prove to the powers that she is definitely insurable on-set.
But before we start popping open bottles of sparkling cider and synching up our DUI ankle bracelets to spell VIVA LA LOHAN, let's take a look at what this comeback actually entails.
It's a TV movie: Not that it's a bad thing! Especially since Ms. Lohan hasn't had a major role since 2007s I Know Who Killed Me. (Sorry, Machete was a piece of stunt casting and we refuse to recognize Chapter 27 as a real film.) Not to mention that it's a Lifetime Channel movie, which seems like a more appropriate venue for a semi- fictionalized, cautionary tale about Lindsay Lohan's own life than Elizabeth Taylor's.
She's a terrible actress: Maybe it was the years of drug and alcohol abuse, or maybe Mean Girls was just a fluke. Either way, nothing in her repertoire since Mean Girls has convinced us she has any talent whatsoever in the acting department.  That root canal equivalent of an SNL episode just confirmed our suspicions that Ms. Lohan, unlike a fine wine, does not age better with time.
Elizabeth Taylor didn't bottom out nearly this early: There's a case to be made that Ms. Lohan could not act her way through this role…after all, with her recent face transplant and her husky voice, she could be confused for a 90s-era Taylor. Unfortunately, the movie will focus on the relationship between the Cleopatra actress and her co-star/future husband, Richard Burton, which ended (for the second time) in 1976. Whose Afraid of Virginia Woof, right guys?