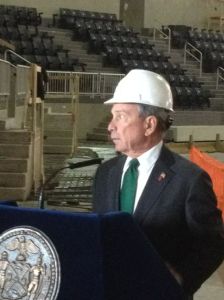 Mayor Michael Bloomberg's veto of City Council Speaker Christine Quinn's prevailing wage bill was the hot topic at his press conference today announcing a plan to fill 2,000 jobs at the future home of the Brooklyn Nets, the Barclays Center arena. Though he fielded several questions about the bill today, Mr. Bloomberg said he doesn't expect to be talking about the issue when he attends Ms. Quinn's wedding May 19.
Ms. Quinn reportedly modified the bill in order to make sure several developments, including Hudson Yards, went through and, at the press conference, New York Times reporter Kate Taylor asked the mayor why he thinks Ms. Quinn supports the bill if she seemingly recognize it would discourage certain developments.
"I would suggest that you address that question to the Speaker," Mayor Bloomberg said. "All I know is, I'm going to her wedding, and we're going to have a good time and I don't think that living wage is going to come up as a subject at the wedding."
Mayor Bloomberg vetoed the bill, which would raise wages for workers on city-subsidized projects, yesterday. Ms. Quinn and the Council are expected to override his veto. Generally, Mayor Bloomberg and Ms. Quinn, who is almost certainly running to be the next occupant of City Hall next year, are seen as close allies, however, she blasted his veto of the bill in a lengthy press release that mentioned Mr. Bloomberg's support for a 2002 law that created "prevailing and living wage requirements for home health aides, day care workers, and some building service workers whose companies have contracts with the City." Mr. Bloomberg was asked about that law at today's press conference and he essentially disavowed it.
"You cannot go and change the marketplace. We have a worldwide market and companies have to afford the labor or they will not go and hire," Mr. Bloomberg said. "I'm in favor of raising the minimum wage because it does it for everyone. … We all want to see people be able to earn greater wages, higher wages and salaries, but the way to raise their salaries is not for the govermnent to impose legislative mandates on some businesses and not others."
Mayor Bloomberg, who pointed out "we have created more jobs in New York City at a faster rate than any place in the rest of the country" said he planned to deal with the job market by continuing to encourage investment and growth by investing city funds in projects like the Barclays Center.
"What we're going to continue to do is to try to invest what we can, and then if some companies like this right where we're standing, if they want to make a deal with their employees to pay more, they have a right to do that," he said. "It just shouldn't be the government forcing people to do that."
Even if it is eventually made law, the prevailing wage bill would not affect the Barclays Center as that deal is already in place. Mayor Bloomberg was still asked whether the wages at the Barclays Center were high enough that they would have been acceptable under a hypothetical prevailing wage law.
"I don't know what the wages are, but they're competitive," he said.
Robert Walsh, commissioner of the City's Department of Small Business Services, chimed in to elaborate.
"Theyr'e going to vary based on the skill set, the good thing about this, is it's not just entry level jobs," he said.
Real estate developer and Nets co-owner Bruce Ratner, who spearheaded the project, said "about 90 percent" of the jobs at the Barclays Center would be part time. Priority hiring for the Barclays Center jobs will be for local residents.
"The opening of the Barclays Center is exciting for all New Yorkers–not only because of the great events it will host, but also because of the new jobs it will create," Mayor Bloomberg said.