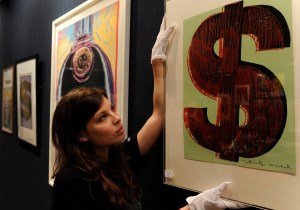 So you've got a Warhol on the wall, and it's appreciating in value, but you want to put some of that capital back into the market. Why not take out a loan using the painting as collateral? According to Artvest, a company that offers art investment funds and analysis of such investments, it's a growing trend in the art market (Blouin Artinfo also recently noted the development), representing some $7 billion in loans.
You might not be able to pull it off, Michael Plummer writes on the company's blog, because "it is easy to get a loan against a work by Warhol but very difficult to get a loan on one by Banksy." But if you're successful, and a strong investor, it's a way to garner an even better return on investment from your art.
Marion Maneker offers more analysis of the trend on his site, where we first found the post.