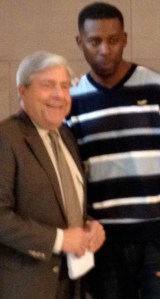 Brooklyn Borough President Marty Markowitz appeared with Wu Tang Clan member GZA at Brooklyn Borough Hall today to announce the lineup for the 2012 Northside Festival. Mr. Markowitz kicked things off by giving "my take on the first verse" of GZA's biggest hit single, "Liquid Swords."
"Through cyclones or typhoons, I represent Brooklyn from midnight to high noon," Mr. Markowitz rapped in his trademark Brooklynese. "I don't waste ink, I think, I drop 'fuggedaboutits' faster than you blink."
Northside is an eight day festival featuring music, film and entrepreneurial speakers from the startup world. Mr. Markowitz said the event was "proving once again that Brooklyn is the undisputed artistic and creative center of America with more writers, artists, actors, dancers and filmmakers per square inch than anywhere else in the nation." GZA will be headlining the festival. Wu Tang is generally thought of in conjunction with Staten Island, where many of the group's members hail from, but GZA let the crowd know that, like Mr. Markowitz, he represents Brooklyn.
"You know, most people associate Wu Tang with Staten Island, or Shaolin, but actually I'm a native of Brooklyn,"  GZA said. "I was born in Crown Heights, raised in Bedford Stuyvesant, Brownsville and Bushwick."
After the announcement, GZA and Mr. Markowitz took questions from the press. One reporter asked GZA if he'd consider adopting Mr. Markowitz into the Wu Tang Clan and what the borough president's rap name would be.
"Marty Wu,"  GZA answered without hesitation.
Another reporter asked Mr. Markowitz his favorite Wu Tang song, but he didn't seem too familiar with the group's oeuvre.
"Whatever he says I go with," Mr. Markowitz said pointing to the rapper. "I'm still a Beatle fan."
The Politicker asked Mr. Markowitz if the Northside Festival was part of an effort to woo Wu Tang away from Staten Island and to his beloved Brooklyn.
"Listen, we've got to give Staten Island something, you know what I mean?" Mr. Markowitz said with a mischievious grin. "But I have to tell you, we consider Staten Island a Brooklyn suburb. If you think about it, over half the folks that live in Staten Island came from Brooklyn. So, therefore, they may sleep in Staten Island, but if you ask them, their heart still belongs to Brooklyn."
We also asked GZA what he thought of Mr. Markowitz's rendition of "Liquid Swords."
"I'm ready to sign him," GZA said. "Collabo."