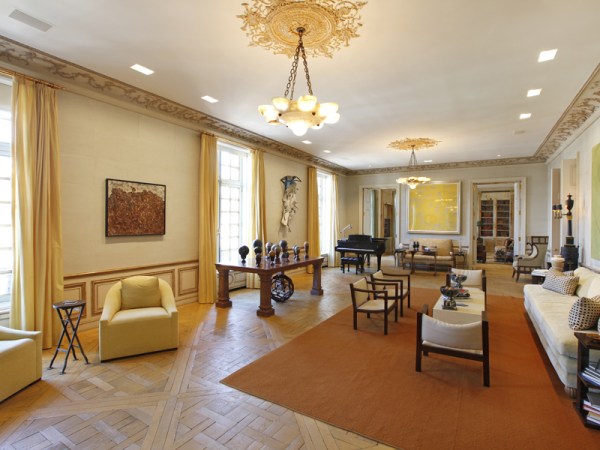 Paul Fribourg is the CEO of Continental Grain and a director of Estee Lauder, Burger King and the Loews Corporation. Clearly, the man has gobs of money sitting around, but that didn't mean he was going to spend $45 million on a co-op at 998 Fifth Avenue.
In fact, it didn't look like anyone was going to spend $45 million, or even $34 million, on the Gold Coast home of Morgan Stanley ex-vice chair Bruce Fiedorek. Just months after rival Lehman Brothers collapses, Mr. Fiedorek was quietly shopping around his sprawling 5-bedroom, 5-bathroom apartment for $45 million, perhaps embarrassed to make such an ostentatious move public. When the home officially came on the market a few months later, in October 2009, the asking price was a more modest $34 million.
In the interim, the home bounced around between two different brokerages over the impossibly long span of three years (it spent a full year off the market, during which Mr. Fiedorek ostensibly re-evaluated the steep asking price before putting it back on the market for exactly the same price).
Mr. Fribourg, who gained notoriety several years ago for an alleged affair with ex-CNN anchor Paula Zahn, just paid a cool $27.2 million for the palatial pad, according to city records. The apartment was listed with Sotheby's brokers Meredyth Smith and Serena Boardman.
Mr. Fribourg clearly has a head for business, so it's not surprising that he was able to knock almost $7 million off the price tag for the place. It's also not surprising that he'd like it—the residence appears to be the kind of uber-luxurious home befitting a captain of industry. It has a marble bath, a dramatic reception room adjoining "an immense living room with beautiful large French windows with balustrades overlooking Fifth Avenue," and a room that could either be used for "staff" or "exercise," the listing helpfully offers.
The building itself is among the more prestigious of Fifth Avenue co-ops, built in 1910 by McKim, Meade and White to ridiculously luxurious specifications with the purpose of attracting the kind of old money that was hesitant to leave their town houses to live in a—pearl clutch—shared building. In the end, they were persuaded, perhaps by features like jewelry safes built into the walls of each apartment.
And the appeal is still there. Real estate scion Jordan Panzer just bought a duplex downstairs for $16 million earlier this year, and Matt Bronfman, the Seagrams heir, bought a second-floor spread for $18 million in 2007. For those still looking for a place in this titanic price range, two units are on the market, one for $20 million, another for $22 million.
kvelsey@observer.com