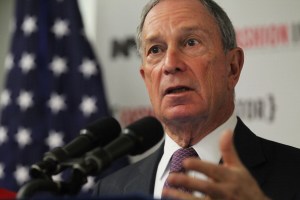 In his weekly appearance on John Gambling's radio show this morning, Mayor Michael Bloomberg weighed in on City Council Speaker Christine Quinn's living wage bill. Mr. Bloomberg compared the bill, which would raise worker wages at city-subsidized developments, to the economic policies of the former Soviet Union and vowed to fight the measure with a veto and, if necessary, a lawsuit.
"If you think about it, the last time we really had a big, managed economy was the U.S.S.R. and that didn't work out so well," Mr. Bloomberg said. "You cannot stop the tides from coming in. We need jobs in this city. It would be great if all jobs in the city paid a lot of money and had great benefits for the workers, not good for the employers, but if you force that, you will just drive businesses out of the city."
Mr. Bloomberg said he hasn't seen the bill yet. He described it dismissively almost as a product of Ms. Quinn's imagination rather than a realistic possibility for the city.
"The bill has never been sent to us by the City Council. This is Chris Quinn writes with her staff, consulting with her members, writes a bill, talks to whoever she talks to, who she depends on, gets advice and talks to different interested parties, so they've not sent any bill to us," Mr. Bloomberg said.
Ms. Quinn described the bill as "the most impactful living wage law in the United States" when she announced its completion Wednesday. Mr. Bloomberg says he has been "told" Ms. Quinn has enough support to pass the bill and override his veto. Nevertheless, Mr. Bloomberg says he plans to veto the bill and will go to court to fight it if he has to.
"I will veto any bill. And if the veto is overridden–and there's enough people that signed up on this bill I'm told so that they would be able to assuming everybody stayed in line, veto the bill–we certainly would go to court and sue," Mr. Bloomberg said. "Whether we win or not, you never know."
Ms. Quinn reportedly dramatically cut the number of workers that would be affected by the bill as she negotiated to come up with a draft that would draw enough support. According to the New York Times approximately 400 to 500 workers would benefit from the final product and several developments would be exempted including Hudson Yards. The deal for the controversial FreshDirect headquarters in the Bronx was approved prior to the bill and would not be affected. Mr. Bloomberg said it was his understanding FreshDirect, which received over $80 million in tax exemptions and other incentives from the City as part of their agreement to keep their headquarters in New York, would have taken offers from neighboring states without the assurance the bill would only affect developments that are approved going forward.
"We were lucky that FreshDirect decided to stay here," Mr. Bloomberg said. "If it was going to keep Fresh Direct out, it was going to keep other people out. You just cannot force employers to pay a rate that doesn't–isn't sustainable in their business and it's not the government's business to do this."
Direct conflict between Mr. Bloomberg and the Council speaker are relatively rare. Ms. Quinn, a likely candidate in the 2013 mayoral election, is generally a strong ally of the Bloomberg administration who calculates her opposition to the current mayor carefully.